May 11, 2013 by syes · Leave a Comment
Friday May 17th          8:30am to 5:00pm
Saturday May 18th   8:30am to 5:00pm
Anaheim Hills 92807
(Nohl Ranch Road – South of 91 Freeway & Imperial Hwy.)
Don't go into the Fast Trak Lane by mistake when going east on the 91
We are traveling out of our local area and we are going to Orange County. For those of you willing to make the trip you will find it worthwhile. This 2800 sq. ft. home is filled with wonderful smalls, china, dishes, oil paintings, rugs, decorative accessories, furnishings and a lot of books. The owners have histories in the Air Force and Hughes Aircraft Co.
It is in a fine neighborhood and is a house for entertaining and exploration. There are hundreds and hundreds of books which topics include: Aviation, Math & Slide Rule Use, Zoology, Natural History, Fishing, Archaeology, Guns, Movie Making, Bibles, Geographical, Travel, Music, Composers, Art & Paintings, Western, Reference , Botanical, History, Political, Atlases, Geology & Minerals, Jewelry, Dictionaries, Birds, Gardens, California, Anthropology, Golf, Cookbooks, Navigation, Aviation, English Countryside, Novels, Coffee Table Books, 8 Volumes Will Durant History 1954, Encyclopedia Britannica Set 1966, and more. Also, some fine book end sets.
Furniture includes a tall 6' carved ornate wood display cabinet with bevel glass, a round Middle East brass tray coffee table on wrought iron base, 3-Section 6' tall dark wood bookcases, misc. side tables & side chairs, Thomasville dining table & 6 chairs, Ethan Allen multi-glass bowed panes china cabinet, Hickory Furniture– king size headboard & mattress set, bedding, bed bench, pr. bombe' night chests, long dresser & mirror. Pr. six-sided cabinets, queen wood headboard & queen mattress set, bedding, 1930's/40's round mahogany leather inset coffee table w/drawers & splayed legs, misc. tall & short bookshelves, vintage round drop leap colonial style table & 4 Windsor chairs, 5 drawer lap top shelf wood executive desk & other desks, wood cabinets-old & new, 1950's/60's modern olive green swivel desk chair & others, old console TV used as buffet cabinet, 7' rolled arm damask sofa in ivory, 8' Tuxedo sofa, old painted  brown chest, buffet, pr. 60's/70's arm chairs, demi-lune hall console, ornate gilt mirror, pr. 36" lighted marble turned stands, antique shoe stool chair, light blue wing chair, Hepplewhite secretary bookcase desk, mahogany stand, Baker Co. corner table, pr. small beige club chairs, mahogany Queen Anne drop leaf side table & oval coffee table, White sewing machine in cabinet, pr. reclining wing chairs in darker blue, Lamps—shiny brass standing, powder coat silver table, 2 pr. antique brass table, ceramic, folding work table, desk, crystal & pressed glass, tall modern 60's amethyst modern glass, European floral glass, antique tall bronze & oil wick lamp and others.
Porcelains, silver plate, ceramics, crystals, wood, marble, glass and metal are there. There is much silver plate serving pieces and a 5 pc. coffee & tea service, trays, bowls, candleholders, pitcher, candy dishes, etc. Crystal goblets, vases, ring stand, decanters, candle holders, biscuit jars, bowls, vases & more. Approximately  115 pcs.  Minton  "Spring Valley" floral place settings & serving dishes, 6 pcs. Aynsley "Cottage Garden" misc. pcs. , Russian tea set in blue & white w/gold trim, vintage Japanese tea set, many different cup & saucer sets, other china sets, tea pot collection, glassware, 50's/60's decorated tumblers, & vintage punch bowl and cups.
Art includes multiple medias of watercolors, oil paintings, Japanese block prints, antique etchings, new  & vintage lithographs. A list of the rest of the art will come mid-week in the coming week.  For example,  pr. of Balinese etchings nude numbered & signed by W.G. Hofkar, Yodel Haufbrauer by Kouinnsky, western oil paintings, seascapes by Blanch, R. Honkell seascape, DV Huhoy mountains & lake, vintage European oils and more.
Decorative accessories are many and fill this lovely home. White porcelain bamboo umbrella stand, Imari pieces,  Lladro clock, Kuan Yin figurines, 3 Royal Doulton Toby jugs, throw pillows, cache pots-Portmieron, Italy & Portugal, pr. antique wood busts, perfume bottles & dresser tray, ethnic items– carvings, statues, swords, misc. pieces. Antique wood chocolate molds, blue & white porcelains, 18' carved marble boy w/backpack statue, cranberry glass, hand painted porcelain plates & pieces, 30" brass candlesticks, large elephants statue, Japanese porcelains & cloisonné jars, Beleek tea set & snack sets (green labels), Lalique pieces,  reclining Roman woman statue on base, etc.
Rugs—One Persian rug "Tree of Life" 4'x6', wool Chinese rugs-6'x9' dark green floral, 4'x6' foam green floral, 9'red rug runner floral, 4'x6' light blues birds rug, 6'x9' mauve floral.
Household and garage things:  Kitchen—utensils, mixing bowls, Pyrex, cookware in enamel  & aluminum, cookbooks, Kitchen Aid mixer, glasses, Bissell vacuum, towels & table linens, box TV & stand, file cabinets in wood & metal, men's & women's hats, HP printer, Dell computer, monitor, keyboard and mouse, men's clothes—M  16-32/33 shirts, 10 ½ M shoe, white dinner jacket, sport coats, jackets, dress shirts, room fans, golf club sets by Cougar Golf and Wilson, luggage, hand power tools, some tools & hardware, auto,, typing tables, baskets, Maytag washer & gas dryer, old redwood patio table, tall wood folding ladder & aluminum extension ladder, garden  tools, chemicals, cleansers, old tool cabinets, tool boxes, plants & tree, and so much more!
March 31, 2013 by syes · Leave a Comment
Friday April 5th 9:00 am to 4:00 pm
Saturday April 6th 9:00 am to 4:00 pm
Sunday April 7th 12:00 pm to 5:00 pm
Monday April 8th 10:00 am to 4:00 pm
Harclare Lane, Encino CA  91436
A lovely Encino hillside home nestled in a wooded setting is where you will find our next sale. It is decorated with antiques, vintage and contemporary furnishings, art, patio, jewelry and decorative accessories. It is another one that you will want to see. There, you will find what you are looking for and what you are not looking for. In yet another treasure hunt, goodies abound and you will be glad that you came by.
Here are the pictures…
Furnishings include an as new cherry wood butterfly leave dining table and 6 chairs, foam green hide-a-bed sofa, 6' Charles Pollack reproduction round, distressed Jacobean plank pedestal table & lazy susan w/8 Louis XIII ladder back chairs turned legs & 'x' stretchers, dark burgundy leather sofa, designer wrought iron leaf chandelier,  Italian birds eye walnut reproduction secretary bookcase, oak & iron coffee & side table, pr. Asian glass lamps, ornate mirrors, hall wall console, painted antique Chinese credenza, mahogany plant stand, pr. mahogany Asian side tables, 4 section oak bookcase unit, wing back chair, 2 tan club chairs & ottoman, 2 white slip cover club chairs, 3'x 6' glass top table w/iron base, large Howard Miller grandfather clock, elegant iron & wood embellished king size headboard, 4 matching medium wood bookcases, pr. crystal lamps, white bookcases, dark wood -sofa table, dresser, pr. side tables, aqua & clear glass and other lamps, antique Parisian commode from H.D. Buttercup, antique French antique apothecary etagere' from Rosemary McCaffrey, twin/queen/king bed pillow top mattress sets, 6-shelf open gilt metal shelving, pr. bar stools, 2 white ottomans, brass & glass entry chandelier, Fr. style wall shelf rack in green lattice w/two drawers, 2 – Dan Marty Italian blown glass & metal wall sconces, shabby chic-pr. side tables, kitchen cabinet, footlocker, dresser, pr. light contemporary side tables & 50's cream curved  sofa, side tables, antique wicker standing lamp, pine side table, 2 high end leather desk chairs, Louis Vuitton Luggage, 6 wood/upholstered game table chairs,  garage, upright freezer, metal lockers and more.
Patio items include Brown & Jordan green patio furniture-6' round table & 6 chairs, 2 chaises, 2 chairs w/ottomans, green umbrella, stand, & side table. 6' Italian terra cotta rectangular table w/fruit border motif & 9 iron chairs, goose neck umbrella, wood glider, pr. wood side tables & a pr. wood arm chairs. Plants, metal Japanese lanterns, accessories, garden tools, vintage children's swing set, baker's rack, BBQ, side cart for BBQ, pots, bench.
Decorative accessories – copper kitchen pieces, crystal decanters, cordials, Bohemian goblets, glass, silver plate serving pieces, 2 sets silver plate flatware, Mason "Denmark" dishes, kitchen items, 2 sets of dishes by Rosenthal & Minton, faux fruit in baskets, figural vegetable vases, 30" brushed chrome pitcher, fireplace tool sets, 9'x 12' sculptured handmade teal green Chinese rug and machine made 5'x 7'burgundy and tan rug, 3 Egyptian papyrus paintings, Judaica and other books.
Art is an important part to this estate and sale. Outstanding framed landscape oil paintings by Evelyn, Mary D. Coleman, Blitzstein and Kaz Walker. There are many framed lithos, signed and numbered and include an oversize Tarkey  litho, Bob Click mid–century lithos framed & unframed, Doug Webb, Golkar, Kathy Donahey and more. Watercolors include j. Lunge', antique 1886 Whittlesey, and an antique painting of the Nile by Goddard. The African art is primitive and there are Native American Indian pieces.
| | |
| --- | --- |
| Men's Designer Clothes  L-XL | Ermenegildo Zegna |
| Ties | Baney's |
| Polo Style Shirts | Pink |
| Long Sleeve Dress | Ralph Lauren Polo |
| Short Sleeve Casual | Gianni Versace |
| Sweat Shirts | Hugo Boss |
| Hoodies | Hilfiger |
| Casual Jackets | Jara Man |
| Soccer Shirts | Claude Montana |
| Fleece & Velvet Jackets – Casual | Dolce & Gabbana |
| Tee Shirts | Giasone Andrew Fezza |
| Sport Coats | Gieves & Hawkes |
| Long Sleeve Golf Shirts | Saville Row |
| Marlon Brando Leather Cycle Jacket | John Cooper |
| Leather & Suede Coats | Brooks Brothers |
| Flannel Shirts | Yng Loro Piano |
| Aloha Shirts | Canali |
| Shorts  34-36 | Missoni |
| Cashmere Sweaters | Sean John |
| Dress Socks | English |
| Pocket Scarves | Laundry |
| Knit Sweaters | Zazara |
| Cotton Sweaters | Bernini |
| 2 Piece Suits | Sam's Taylor |
| Gianni Versace Wood Overcoat | J.K. |
| Slacks 36/32 | Saks 5th Avenue |
| | Cerruti |
| | Mane |
July 27, 2012 by syes · Leave a Comment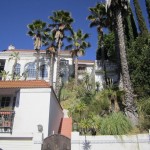 How often do you get to visit a hillside 1920's Hollywood style home in Sherman Oaks? Well, next week is your chance. We are presenting the 17 year residence of a celebrity couple, Bill & Cristina Barretta.  He is best known for his work from the beginning of The Muppets with Jim Henson & his son. He plays the Swedish Chef, Pepe' the King Prawn, Rowlf the Dog & Dr. Teeth.  Cristina is an artful & talented set decorator as her home reflects.
LOOK AT THE PHOTOS AT THE BOTTOM OF THE WRITE UP.
Friday August 3rd 9am-4pm
Saturday August 4th 9am-4pm
Sunday August 5th 11am-5pm
Monday August 6th 10am – 5pm
Contour Dr., Sherman Oaks, CA 91423
WARNING! The 3400 sq. ft. home is entered by climbing 52 steps. Tennies or walking shoes are advised. The outdoor, incline elevator is for those 75 years or older if you can't handle the steps.
This European feel home contains antiques—floor lamp, boxes, Bernhart Co.— oversize china cabinet, marble top buffet, 110" pedestal dining table, 2 side chairs. Italian chairs—4 from the estate of 40's/50's singer Perry Como & 4 others, silver painted– coffee table, mirror, pedestal, 2 wall shelf sconces, Fr. style Fautieul chair & ottoman, salon chairs–2 pair & an oversize, 2-1920's bronzes by B.J. D'Aote  & Chiparus, 8 ½' brown rolled arm sofa, throw pillows, 3-18th/19th PA architectural fixtures, Arte' de Mexico—lg. iron sofa/hall table, iron 12 lite chandelier, & wood settee. 40's/50's Regency & Fr. style armchairs & game table w/4 silk damask tufted chairs, rd. Victorian tufted ottoman, metal baptismal, sideboard, Chinese armoire & rug, prints, Fr. cloisonne' clock, 2-18th/19th Spanish faience jars, linens, embroideries, 20's cabinet, Spanish side table, oval vanity, dressers one w/tri fold mirrors, a silk screened tapestry once owned by Howard Hughes, Art Deco chifferobe. Silk draperies and rods, lamps, china, crystal, barware, high end bric-a-brac, baker's rack, dozens of picture frames, wood easel, Liam O'Neill coconut wood crafted bowl, Lg. men's clothes, women's designer clothes S to L stunning vintage & newer, size 6 ½-7 shoes & boots, jewelry, kitchen, patio, toys.
ADDITIONS PROMISED LAST WEEK ARE:
The salon chairs swivel and are from the 50's or 60's. The fabulous game/soiree table is from the 40's/50's. There is a signed original Raoul Dufy watercolor from the 1930's to 1940's there of 'Ascot London'. (It is subject to appraisal and its sale will be determined this week).
2 Pr. glass & chrome lamps, ornate Italian style chandelier w/beads & gilt 39"t x 32"w, embellished needlepoint tapestries & runners w/ beads & sequins, chafing dishes in chrome & silver plate, barware & glasses, jewelry- vintage costume and gold, candles, #35/50 pen & ink etching by Keiko Minami 'Girl with Kite & Dog', lg. L-shape sofa olive green velvet, oversize Italian chair for 2, mirrors,  1920's oval side table with floral painting, 50's style ottoman table, leather chest & 2 ottomans, queen black wrought iron head & footboard w/mattresses bed, pr. Balinese masks, pr. antique Chinese wall tassel plaques, pr. Tiffany style table lamps, small wood console table, 50's style chenille bedspread, multiple dozens of picture frames, vintage rocking chairs and side tables, small appliances.
Men's clothes and shoes L, stunning vintage designer women's clothes M & L and newer designer clothes S & M,  women's shoes & boots 6 ½ & 7, toys-Legos, radio controlled cars, Batman child's table & 2 chairs, blocks-natural & painted, musical instruments & real amplifier, games.
Chinese cabinet, lg. executive desk w/ 2 matching file cabinets, antique boxes, new inlaid humidor and jewelry box, retro Harmon- Kardon 'Space Age Speakers', pr. new in box and unopened Bose speakers, desk organizers, photo printer, new California King Temperpedic mattress (cost them $3000), 5 piece bedroom furniture set- Head & Footboard, 2 tall dressers, entertainment w/drawers cabinet, 2 side tables.
There is a bed bench, 4 pieces rolling luggage, valet case, many travel bags, Bushnell 'Voyager' telescope, many perfume bottles, silver plate serving dishes, large antique style reclining nude oil painting & another antique frame nude print, books—large coffee table books (Sinatra, Beatles, Jackson), movie, biographies, novels, health, travel, wedding & parenting, 6 wood shabby chic bookshelves, tins, Moorish lantern w/colored glass, lg. antique repro 'Angel  and Woman' oil painting, lg. entry mirror in black & gilt 44"w x 68", 2 large chrome & crystal entry & family breakfast room chandeliers—one 20 lite (36" x 50") & one 18 lite (36" x 30"), ornate, heavy ormolu figural cherubs entry console, machine made Persian area rugs, Knight helmet,  unframed European oil 'Village', pr. gorgeous carved wood Korean vases, 7' alder family dining room table & 6 chairs w/tapestry seats, pr. Mexican children's chairs & serving dishes, Chinese fish bowl w/faux tree, wrought iron baker's rack, 1920's/30's picnic set in valise, Christmas, Lenox china pieces, vintage decanters & cordials sets, Lladro, 3 box TVs, small boys bike & helmet, 2 scooters, vintage & new  textiles & draperies—4 panels tall gold/olive/ivory, 8 panels tall gold/brown striped silk with wood rods & finials, 6 panels tall silver/gray/gold striped shears, many panels (maybe eight) red velvet, emerald green & yellow striped vintage, burgundy & ivory, newer tapestry in  burgundy/blue/ivory/gold/green and more.
The front terrace contains three large faux terra cotta pots, 2 chaises, round patio table & 4 chairs w/umbrella & stand, Italian potted plants, and an abstract copper fountain. The back Tuscan style  patio has a wood table and 8 wrought iron chairs and woven seats, vintage iron two-shelf console, a vintage iron French style demi-lune multi-tiered 4' rectangular plant stand, potted plants, 2 Mexican wall planters, an Italian wall fountain, a copper/brass table fountain, 2 wood bar stools, clam steamer, Williams- Sonoma $1500 iron pot rack, three balloonist mobiles, folding chairs. That is it as there is way too much more to list.
There is no Muppet Memorabilia at this sale.
The 'Starry Night' faux oil is not for sale.  (I made a mistake. It is a keeper for the family)
                           Faux Plants Are Not For Sale, Except For the Chinese Fish Bowl & Tree
                      The flat screen TV's are not for sale, nor is the black console in the TV Room & the mirrored console in the living room is NOT for sale.
Here are some pictures.
July 5, 2012 by syes · Leave a Comment
Friday July 13   9:00-4:00
Saturday July14   9:00-4:00
Sunday July 15   1:00-5:00
Monday July 16   10:00-3:00
Woodland Hills, CA 91364
I am posting the photos at the bottom of this page, after the description.
This is a really lovely home in a prime west end foothills neighborhood. This south of the 101 freeway home is filled with near mint furnishings from the 60's, 70's, and 80's.
There are also antiques, vintage & architectural pieces, vintage items and decorative accessories. Contents include an 8'brown leather sofa, black leather oversize club rocker, green Liberty gun safe Model Washington 40, a 70's/80's 4' x 6' Ian Phillips (furniture crafter of Sherman Oaks) modern wood & travertine coffee table with 1 ½" shadow box display collection capabilities, a rectangular gilt wood coffee table, six-sided,  Ethan Allan, French, & other side tables, lamps—brass w/acorn embellishments, 5' 60's brick red ornate table, 4' two tone green table, 4' ceramic table, green tole table, 2 Russian painted lacquer box, dozens of picture frames, white slipcover loveseat in Sunbrella fabric, Yamugata & Shorr framed posters, Kintson abstract oil painting, framed prints, dishes, Waterford–'Powers Court' crystal water & 6 wine goblets, vases, & sugar/creamer, Lipper & Mann 60's tea set, Villeroy & Boch 'Petite Fleur' tray & casserole, kitchen & small appliances, summer serving dishes & trays, many Japanese porcelain vases, Satsuma tea pot, tea set & vases, 12" Seiko wall clock, faux flowers & trees, vintage Oriental silver washed on copper mirror, 4 panel  wall screen, framed Japanese embroidered herons, pr. vint. club chairs, 1920's & other vint. silver plate flatware sets, gold tone flatware set, stainless flatware set in box, tablecloths & napkins, 9' sofa & 6' loveseat in traditional floral 80's upholstery, carved stone statues 'Mother & Child' & 'Lion' from South Africa, ant. Haviland Limoges china dishes GDA CH Field, deep pink ottoman, Chinese fish bowl & stand, fireplace screen, 60's 6-panel low cabinet, electric copper samovar, LPs, 6' modern dining table & 4 chairs w/3 12" leaves, black Chinese temple jar w/stand, pr. ant. 14"ginger jars w/wood lids & stands, Murano glass vase, crystal decanters & goblets, Hummels, china pieces, bedding & comforters, International  Chiropractors Assoc. King bed set & headboard, Japan marriage cart clock, handbags, costume jewelry, Christmas, art glass, gas Maytag Washer & Dryer, Kitchen Aid side by side fridge, patio tables & accessory pcs., power hand tools, tool box, electronics, 6 Karastan & other area rugs – machine & handmade, 5 metal garage shelves.
April 28, 2012 by syes · Leave a Comment
COME HELP US EMPTY THIS HOME. MAKE US AN OFFER. WE WILL TRY TO ACCEPT IT.
REMEMBER, WE HAVE DELIVERY SERVICES TO GET ALL THESE TREASURES TO YOUR HOME
Friday May 4 & Saturday May 5    9:00 am-4:00 pm
Sunday May 6    12:00-5:00 pm
Monday May 7  10:00 am-4:00 pm
Tuesday May 8 10:ooam-4pm
Ambrose Avenue (Between Los Feliz Blvd. & Franklin up Normandie)
—————PLEASE WATCH FOR PARKING RESTRICTIONS ON FRIDAY ————-
This restored six bedroom, 1923 English Tudor home is sure to be an 'estate sale goers' pleaser. The house is for sale. We just think it is a beauty. The gorgeous neighborhood setting is nestled in the hills with a view of the Observatory above, and reminiscent of old Hollywood.
It is filled with furniture, art collector's listed artist oil paintings (listed next week-Conrad Buff etc.), patio and decorative accessories. There are things from the 19th C., vintage, & to the present.  We have American, Italian, French, Asian, English, and Indian items. Antiques include an 1860's Minaret/sq. grand piano desk w/provenance, What-Not etagere', German salt glaze pitcher, 20's Mochi enamel kitchen table w/silhouette design, china, glass, many standing bridge lamps, pitchers, 10' x 15' 1920's/30's hooked rug, 16" tall brass fireplace fender, marquetry hall table, pr. Kittinger oak demi-lune side tables, Art Deco brown & white marble mantle clock & bookends, 4 iron planters, brass day bed, French copper pots & bowls, Art Deco chest on chest/mirror/armoire/headboard/pr. side tables, Tiffany blue & white lotus pitcher, cloisonne' vase, 8' x 10' 1920's Chinese Nichols rug, inkwells, spelter/marble lamp & other lamps, Neo-Classical  Fr. Art Deco gray chenille down sofa, 20's iron ashtray.
Vintage items include brass inlaid bar & 2 folding side tables from India, 2-3 shelf Globe Wernieke lead & glass lawyer's & other bookcases, sofas & club & salon chairs (slip covers/ Harlequin/ leather & fabric), red/black decorative Chinese & other side tables, iron silver leaf coffee table w/marble top, 40's desk lamp, 70's 6' Harlequin cabinet marionette theatre w/puppets, books, area rugs, Marge Carson buffet, crystal, matching armoires, pr. custom signed 5' marble lion statues (originally $30,000), Chinese rosewood sofa & 4 arm chairs & side tables, 4 upholstered chairs & other side chairs, lg. gilt mirrors, 24" floral cache pot.
PR. 2′ x 5′ ITALIAN MARBLE LION STATUES COST $30,000 NOW  REDUCED TO  $15,ooo (DELIVERED)
LARGE 6 FOOT MARGE CARSON CONTEMPORARY SIDEBOARD BUFFET COST $13,000 Now $4250
GORGEOUS BLACK AND NEWER CUPBOARD COST $3000  Now $1250
Bric-a-brac,  linens, tablecloths, towels, some bedding, 20's repro dining table & 6 chairs & 2 leaves, area rugs-red, black & white Turkish, green & beige Persian, 8' x 11' Azarbayjian & other rugs, faux oil paintings & prints, kitchen, dishes—Royal Worcester, white ironstone, Soleidado Bees, Pierre Deux style, solid greens & yellows, many faux plants, medium Vintage ladies clothes & newer, Christmas, Christophle silver plate flatware 15 place settings & plate serving pieces, kitchen, patio-black painted teak table 4 chairs settee, repro planters, tile topped tables, Chinese stools, chairs, tall patio heater, BBQ, baker's rack, Gargoyle figurines, jewelry-costume, gemstone and real.
A Message from the Owner
Over the course of nineteen years, the collectors who lived here accumulated collections of visual art, books (notably a collection of poetry), tableware, and other objects.
Most of these works have a clear provenance:  they were purchased at galleries, auctions, and from the artists themselves.  Where feasible, we have printed out information about these works.
All prints have UV-reflective glass and matching black frames (except where already-framed when purchased).  All water colors have high quality wooden frames; the Surendorf watercolors are framed in cherry wood.
The visual art collecting began with folk / outsider art.
Folk / Outsider Art
1.  Cornbread, "Guinea Keets."  Acrylic on 12" x 34" wood panel.  Marcia Weber gallery.
2.  Mose Tolliver, two portraits:  George and Martha Washington.  House paint on 15" x 16" wood panel.  These are earlier works, pre-collaborative, not painted directly for a customer.  Martha has a red nose and smaller goatee.
3.  Eric Legge, flowers on 9 ½ x 37 wood panel.
4.  C.W. Conor, mixed media, painted paper on tin.
5.  Arbon Lane, boxers, house paint on wood.
6.  Patience Hamilton, "Wheat Scene."
7.  Jack Savitsky, "Fifi Dunn, Farmer's Maid."  Pencil on paper.  The Dunn farm is still operating in Pennsylvania, near Savistsky's home.
8.  R.A. Miller, "I love you [dinosaurs]."  Marker and paint on hardboard.
It continued with collecting local prints and prints from the 30's.
Prints Poole, "Horses"
Blanche Grambs, "Mining Town."  Proof.
William Sanger, "Storm over Fishing Village." WPA  print.
Edmundson, color print
Street, Prayer Rug
Prints by California Artists Charles Surendorf, "Driftwood"
Charles Surendorf, "Stairway, New Orleans."
Charles Surendorf, "Hse in NOLA."
Charles Surendorf "Nervous Nude."
Charles Surendorf, "Winter Orchard"
Charles Surendorf, "Sonora Church"
Charles Surendorf, "Tahitian Fishermen"
Charles Surendorf, "State Street"
Warren Dreher, "Hills, Spring Rain"
Monterey photo:  fishing boats.  Silverplate frame.
Monterey photo:  female sardine canners on Cannery Row.  Unframed.
Big Pig Poster
Birds on a wire poster in frame.
Cows poster.
Leo Politi, Bunker Hill,
California Paintings Anonymous, "Angels's Flight."  Oil on canvas.
Alice Blair Thomas, still life of flowers, oil on 9 x 12 linen panel. Original frame.
Joseph St. Amand, "Cornflowers."  Still life, oil on board. Condition:  picture is loose in original frame.
Charles Buff, two-sided oil sketch on panel, one side mountains, the other a mesa.  Purchased from John Moran.
Charles Surendorf, "Sullivan's Creek."
Charles Surendorf, "Longbar Meadow."
Anya Fischer, shell.
Judy Molyneux, "Rebecca."
William Morehouse, study for Rock Fog Bank, oil sketch.
Other Paintings Robert D'Arista, "Oriental Jars."  41 by 41 on canvas.  Condition:  some minor paint loss.  Other:  artist had a retrospective last year; prominent Boston artist and teacher.
Charles Movalli, unsigned. This is a very typical work, and was acquired with the other picture from the same gallery.
Charles Movalli, signed.
San Francisco bridge painting
California Watercolors Charles Surendorf, "Dry Creek," watercolor on paper.
Charles Surendorf, "Columbia Colors," watercolor on paper.
Charles Surendorf,  "New Mexico," watercolor on paper.
Charles Surendorf, "Spring," watercolor on paper.
Charles Surendorf, "Nevada," watercolor on paper.
Surendorf water color and ink.
Watercolors Gregorio Prestopino, Madonna with child.  Watercolor.:
Just To Let All You Art Collectors Know.  The Movali, D'Arista, Harris, Hooper, Surendorf (50% to 60% off) original oils, watercolors and signed lithos & etchings  are over 35 -50% reduced and more for some, as well as the other street art and WPA lithos (Works Progress Administration from FDR's 1930′s government programs). The thing is, there are lots more art works that will be brought in FOR SALE from the house nooks and crannies to sell after these go. COME ON OVER and pick up those pieces of art that you wanted. Also, as is custom, everything is reduced and bargaining from there is encouraged. That is including the marble lions that are now reduced to $12,500 for the pair and can be delivered to a level place only! The $13,000 Marge Carson buffet is reduced to $3750 for you designer furniture collectors. The huge black cupboard is down to $850 and goes down from there. It all goes in the next few days! See you later.
February 14, 2012 by syes · Leave a Comment
Friday February 10th, 2012   9:00-4:00
Saturday February 11th, 2012   9:00-4:00
Sunday February 12th, 2012   12:00-5:00
Monday February 13th, 2012  10:00-3:00
**** Hillcrest Avenue (East of Oak Knoll, South of the 210 Fwy)
To start off this 2012 New Year, we are presenting an elegant estate filled with generations of antiques, vintage and contemporary items. The large, antique dining table is stunning. For those of you who remember the gorgeous Port 'O Call stores and their wonderful antiques, decorative and serving accessories, you will re-find much of it in this home.
There are also 1970's designer fabric bedrooms & furnishings that you may have dreamed of having years ago. The majority of this estate is composed of a great deal of books, fine smalls, porcelains, silver plate pieces, 7 china dish sets, bric-a-brac.
Other items include a Biedermeier style hall console cabinet, Cannel & Chaffin round display table, Baker side table w/brass trim, 3 prs. matched & 2 brass side table sets, 2 pr. matching French arm chairs, petroglyph motif, floral & other solid club chairs, pr. twin Temperpedic beds, pr. twin mattress sets, 2 upholstered/wood king headboards, sofas– 8' & 6' floral sofas, 8' white, 5' navy floral, 6' bright yellow.
China sets include Lenox "Golden Wreath", Haviland Limoges white w/1/4"gold border, complete burgundy Chinese dishes set, Caverswall by David Orgell, Royal Worcester "Dorcester", Royal Crown Derby "Old Avesbury", Limoges green/gold leaves motif border. Other porcelains–sets of Spode & Adderley dinner plate sets for buffet service, 2 small Meissen plates, Rosenthal & other demitasse sets, game birds & 1911 fashion collector plates, platters & serving dishes, boxes, vases, figurines, etc.
A pair of 24" heavy polished brass planters, 7'brass showcase, 2 rugs 9' x 4' & 8' x 10', 4 Pont di Venise tablecloths, high end linens, several standing lamps, whitewashed armoire/entertainment cabinets, ornate side chairs, 2 French style desks and chairs, antique two pedestal dining table from 80"-152", 18" Baccarat swirl vase (original box), 19th C. parquet Italian dressing table & inkwell, pr. pink & green quilts, ladies' designer shoes (8 ½), St. John's suits & other designer clothing (sz. 2 & 4), accessories & hats, 4 clothing racks, books—coffee table, antique, economics, collectibles, politics, history, geography, novels, W. Irving, ships, garden, political, health, biographies, movies, 1911 Encyclopedia Britannica. TV's (17"-40"), electronics, pictures & prints, enamel, oil & watercolors, patio furniture, potted plants, statuary and more!
This is an amazing estate. The more we open, the more there is. The items in this home are gorgeous and high end. There is no jewelry. Here is an attachment to the first website listing. We have been in there a week and it is truly spectacular for crystal, china, clothes, patio and greenhouse. The library is filled with antique and rare books. There are hundreds of 78 rpm records, 50's LPs ($10 each the first day), LP sets and 45's.
It goes as follows: unbelievable 8, 10, 12 to 16 piece crystal goblet sets, 19th C. antique needlework picture, 1920's mahogany side board, 8 upholstered arm dining chairs, 8 Asian dining chairs, Japanese fired ceramics & pr. mud men wall figurines, a fabulous 24"silver plate ship wall lantern with enamel painted shade, many decorative wastebaskets umbrella baskets, framed antique birds print, 27" floral footstool, pr. 40" brass lamps, folios, journals,  address books, vintage French style desk & swivel chair, furs, jackets, coats , Asian stone plants, faux plants, magazine holders, Italian glass box, cameo ware vase, dresser tray & vanity items,  multiple umbrellas & canes, 36" Panasonic HDML TV & other TVs, VHS players, pr. porcelain ceramic fish lamps, bed trays, 4 Riani of Italy & other novelty figurines, TV trays, leather & other card tables, folding chairs, throws, blankets, sheets & towels, old Fairbanks Morse standing scale, picture frames, bookends, barware, antique decanters & ewers, bar accessories, glasses, goblets, hand painted beer goblets, American flags, misc. gifts, bird statues—stone, ceramic, porcelain, glass eagles & other birds & dogs,  St. Croix Switzerland music box, older reproduction gambling tea table, Royal Doulton figurines, pr. lacquered Chinese stools & box, pr. framed Chinese tapestries, cache pots, pedestals, stands, bases, pr. 24" brass base hurricane lamps & three blown glass shades, mirror planter, 3 section metal wall hanging, games & cards, 28" antique beaded crystal "hot air" balloon chandelier, 3' green Victorian style etagere', vintage French style desk, Thai parasols, 7 drawer Asian oak dresser w/brass trim, English Pimpernel & many place mat sets, porcelain place card holders, Christmas items & ornaments,  box of Community plate flatware, 3 in one framed Chinese reverse painted glass panels, figural flower brass lamp, silver plate samovar, tureen and casserole, Waterford vases & bowls, wood and other trinket boxes, glassware, single wide Hotpoint refrigerator w/upper freezer, luggage on wheels & one old, very used Louis Vuitton suitcase, over 100 pcs. of  12 full place settings Chinese dishes in raspberry ground with floral motif—all matching!!!   I must go to another paragraph.
3 white iron patio tables w/4 chairs each, white iron coffee table, chaise, side chair & 12" x 12" side table, 5 antique black iron planters, 4 tall rose trees in terra cotta pots, potting table with drawers and shelves, garden figurines, faux fruit, decorative accessories, gas BBQ & charcoal BBQ,  in the greenhouse—baskets, clay pots, wrought iron plant hangers & bases, chemicals.
Paintings & pictures—Gertenbach oil painting "Two Girls In Garden" 1987, "Girl in Field" small enamel painting, Lee Weiss  1982 "Asian Watercolor", AR 1973 "Asian Still Life" oil painting, Lacy 1982 "Still Life" pastel, Clisburn Floral "Still Life" oil painting , "Fruit Still Life" oil painting.
December 1, 2011 by syes · Leave a Comment
THE FINAL  2011  ESTATE
Friday & Saturday 12/10 – 9:00 to 4:00
Sunday 12/11 12:00 to 5:00
Monday 12/12 & Tuesday 12/13 10:00 to 4:00
Forman Avenue (South of Riverside Drive)
The Holy Days season is upon us and we have another opportunity to remember how blessed we are to celebrate the love of God. The gift of Himself to all mankind gives us the reason to continue living and to help others live on. We at Sharon Yost Estate Sales thank you for the best year in our 17 year history.
Thank you for your attendance and your patronage. For the last sale this year, we are presenting to you one of the most important homes we have ever produced. This estate is filled with one family's possessions and it is stunning. It is really amazing and I assure you that I cannot list it all on this postcard.
With 3 rooms empty, the remaining 15 rooms & guest house of this 11,000 sq. ft. home is sure to thrill your treasure hunt leanings. Holiday shopping is at its best here and well-timed for those special gifts to buy for your friends and family.
There is no jewelry!
There are antique, vintage, contemporary, country and reproduced furnishings, paintings, magnificent decorative items, serving pieces, Christmas, collectibles, glass and china. The formidable amount of each set of bronzes—Ukraine Rustler, Arab on Horse, Frederick Remington, Icart, Moreau, Mene (to name a few), bronze mantle & wood wall clocks, gilt framed paintings (florals, landscape, children, mother & child) & mirrors, antique Edison & repro phonographs, 7 Howard Miller grandfather clocks, Asian ceramic stools & fish bowls, Tiffany style standing & table lamps, antique style iron garden statues, fountains, & urns & planters, signed & numbered lithographs, and dishes is phenomenal.
The furniture is French, Italian, English, American and modern. A pair of heavy free-form Lucite bases hold up a 3' x 5' glass coffee table and a Lucite base 5' diameter glass top table w/4 white leather upholstery & chrome frame chairs, modern Austin Powers ball chair, 21' cream leather curved L-shape sofa & chair, 10' chrome floor gooseneck lamp, 17' caramel suede & dark brown leather sectional sofa, 2 dark brown dressers (tall & long), 2 queen woven wicker beds in caramel w/mattresses, queen brass headboard, ormolu— side tables, chest, demi-lune chests & ornate French style vitrines. Italian hand painted china cabinet(sorry, the family is keeping this), side chairs, long antique style side board, bric-a-brac, leather sofa & loveseat sets, white silk damask tuxedo sofa, 4' ornate sunflower face carved foyer table w/glass top, Victorian gentleman's mirrored dressing vanity, 9' glass dining table w/pr. Lucite bases, 10 Hepplewhite chairs & settee, small knick knacks, ant. sterling napkin rings, figurines, boxes, silver plate, crystal, ceramics, kitchen, dishes—Wedgwood, Franciscan 'Desert Rose' for 12, Block, Franciscan solid color burgundy and several other sets.
As a postscript to notification of this estate sale…
We started with an empty house. The entire home had been staged with newer items by the realtor to help sell the home. Just this Monday, November 28th and Tuesday, November 29th, our valiant crew of movers went into the 2000 square foot garage to move all the furniture upstairs to the 1st and 2nd floors! Wednesday and Thursday we moved decorative accessories, paintings, bronzes and bronze clocks, Christmas items, etc., from the five treasure rooms attached to the garage. Today, we continue to move items upstairs, display and hang pictures and paintings. Tonight you will see some pictures to show you the magnificence of this estate. Next week, we will have final pictures, hopefully by Wednesday night.
Friday 12/9

November 14, 2011 by syes · Leave a Comment
Hartsook Street
West of 170 Freeway, Magnolia Blvd. Cross-Street is Colfax
Friday, November 18th & Saturday, November 19th  9:00 -4:00
Sunday, November 20th 1:00-5:00
Monday, November 21st 10:00-3:00
As we get ready for Thanksgiving, we remember all the blessings we have living in this wonderful nation. We can thank God for all the opportunities that we all have to succeed. There are many things to be grateful for.
The pictures are below…
Nestled between Studio City and Sherman Oaks, you will find this lovely hamlet of charming homes and tree-lined streets. In one of the Valley's best neighborhoods; this 4 bedroom home has an array of fine furnishings, paintings, costume jewelry and decorative accessories. There, you will find 2 pine dining tables, one 6' w/out chairs & one with 4 chairs & leaves, pine coffee table, English country side floral chintz L-shape sofa, sm. sofa table, large pine bar, 3 half bar stools (wood w/leather seats), lamps–pr. boudoir, pr. tall black metal, white metal, floral w/floral shade, stained glass, brass. Sideboard w/mirror, white washed coffee table w/bevel glass, mahogany secretary bookcase, corner table, credenzas, maple desk & chair, swivel club chair, side tables—3 nesting tables in buff, cream w/hemp top, mahogany w/ leather insert, 8' custom ebonized bookcase cabinet, books-newer, prs. child busts, ant. drop front desk, queen white 'chic' head & footboard w/mattresses, dresser, mirrors—pine, stunning round brass w/crystals, vanity, metal embossed, standing wood, gilt oval. Wine label plaques & pictures, 8 half bar stools, French–sideboard & wine cabinet, 3 arm chairs, bed stand, floral geometric area rug, standing wine rack & bottles, 5 drawer chest, smoke blue hall table, faux old master painting, pr. slipcover flounce boudoir chairs, large pine custom 6 cabinet wall unit, corner dresser & mirror, mahogany armoire, queen mattress set, 8 panel Japanese embroidered crane screen, pine cabinet, bric-a-brac, newer desk unit & desk chair, salon chair, oil paintings commissioned & antique oil by George W. Drew, sketches, Christmas, ladies designer & other clothes S & M 4 to 8, size 7 shoes, handbags, accessories, pine kitchen center work table, bar glasses & barware, 10' x 14' cream & pastels Chinese wool rug, rust 8' x 10' 1920's Chinese rug, other area rugs, sm. bench, statues, tall Waterford vase, spruce green hutch, 2 iron patio tables & 4 chairs each, pr. green Adirondack chairs, wicker ensemble patio set, bench, garden Buddhas, serve ware, concrete bench & planter, potted plants, 2 iron chaises & side tables, vintage arcade games, bowls, glassware, china pieces, Asian jars, fire screen & tools, scrolls, cloisonné, and more will be listed next week.
Sorry, we had no time to add to this list. There is a  much elegant Christmas items and decorations, figures, Asian pieces, fabulous artisan signed bowls, silver plate serving pieces, chair slip covers, pr. stained glass arched door panels, garden equipment & chemicals, BBQ, metal stands and side tables, crystal goblets and bar ware, wine corker, tribal rug runner, 3 Baccarat hurricane lamps w/swirl pattern, decorative accessories and statues, oil paintings and watercolors, dishes sets, pr old porcelain lamps, costume jewelry, ladies beautiful clothes, picture frames, cloisonne' jars, antique jewelry box from China, large  furs, crane embroidered 8 panel screen, area rugs–Chinese & carpet & design, lamps, Quaker child's chair & standing candle holder. kitchen & small appliances(the stainless table in kitchen is not for sale) faux flower arrangements, armoires, wall plaques, wire settee w/pillows, bric-a-brac, bath cabinet, tole lavabo on wood plaque, and so much more! My readiness time is up! See you there with plenty for all.
September 21, 2011 by syes · Leave a Comment
Friday September 30th    8am-4pm
Saturday October 1st    9am-4pm
Sunday October 2nd    1pm-5pm
Monday  October 3rd     9am-3pm
La Canada Flintridge
(South on Chevy Chase Drive & 5 minutes up the hill & left on Inverness),
Chevy Chase Drive is one block west of Angeles Crest Highway 2 off ramp, off the 210 Freeway.
We will have Valet Parking assistance some days of the sale.
They will help direct parking and assist with any handicap issues.
We are moving briskly into the fall season and the holiday months. We look forward for giving thanks to God during Thanksgiving with family and friends. We also prepare for Christmas and the Holy Days to celebrate our God and His blessings. We also give gifts. There is no better place to find furnishings & smalls than at a 'top-of-the-line' estate sale.  We are presenting the contents of a beautiful 5300 sq. ft. home on oak-laden acreage with view…. a fine home of antiques, vintage, contemporary, & patio items.
The premier furniture ensemble in this estate is a stunning, handcrafted, 9' x 50" walnut & oak Modernized Craftsman inspired trestle dining set by master furniture maker, Nelson Condo of Woodpecker's, Los Angeles. The 2 ½" thick, table includes 12 side chairs w/seats upholstered in smoke blue leather. It retailed originally at $15,000. Complementing this dining room set is a matching buffet created and accomplished by Mr. Condo measuring 61"w x 22"d and retailed for $5,000. Gorgeous!
Antiques include a Victorian hall tree, wood coal box, 55"w Art Deco cabinet & mantle clock, china pcs., 1900-1920's pieces—9'w/87"h/14"d mahogany office cabinet w/glass doors bookcase,  a carved curio cabinet, 30"t side table/ cabinet & National time clock punch-in clock. Vintage items—wood, Bakelite radios & 40's RCA hi fi/record player, 6'h refurbished 1930's candy machine, dial public pay phone, loomed blanket tapestry, 1960's Global coin-op bar pool table 95"x 53"w/keys, balls, wall holder & cues, lidded barrel 'Scotty' toy box, two Penny pistol gumball machines, Baseball pinball game tabletop sample, Pachinko, etc. Other furnishings— 5 wood bar stools, wood twin day trundle bed & Lg. twin Sleigh trundle bed,  Art Deco style bobinga wood & glass demi-lune console table & sm. tri-pod table, lamps, side tables, coffee tables, jute club chair & 2 barrel side tables, Bodysmith  gym Prosystem & other weight equipment, 65" Mitsubishi DLP TV 12"d (Used several times), 50″ DLP TV, 4 iron bar stools, 36" burgundy ottoman, tall decorative popcorn cart on wheels, 7' sofa & 2 club chairs upholstered w/ leather trim, many Brown & Jordan Mission teak dining octagonal table w/8 arm chairs, other teak furniture pcs….most  w/ blue canvas cushions—tall boy table & 3 tall boy chairs, 36″ pool chest box, 48"six-sided table & 4 chairs, 3 arm chairs, 4 side tables, 4 chaises, & a great 66" dining octagonal table w/ 8 arm chairs & bench.
Also, 3 blue umbrellas w/ stands, 10 large glazed ceramic (up to 48" tall pots) planted w/massive drought-resistant plants, other plants, garage—9 1/2″ Fineline long board, camping, fishing, golf, beach, pool, 10 speed &  girl's bicycles, hand & power tools-Rigid 10" table saw, Delta 6"joiner/ planer, 13" DeWalt planer, washer & gas dryer, kitchen, decorative items,  bedding, linens, towels, Christmas, bric-a-brac, many serving dishes, bowls,  platters, trays, dishes, crystal, men's clothes—15 ½ /33, M & L Size 40 suits, women's clothes—Size 8 or medium.  There is much more. Please check website for more estate items and embellished descriptions of the above.
Here are the additional listings that would not fit on the postcard:
Kitchen–cookbooks, glassware, decanters, entertainment dishes for up to 24 people, 16 gold ceramic chargers, vintage Mexican blown glass pitchersglasses & goblets, many Pyrex glass baking dishes, Armetale pcs. , many decorative ceramic trays, bowls and serving platters, MM Portuguese dishes, Italian dishes, 24 gold tone chargers, 24 wine goblets w/ gold trim, Panini press, pots & pans—Staub, LeCreuset, & Magnalite, gadgets, utensils, etc.
Play Station games, videos, DVD's, cameras, many board & talent games, 8 cream color metal Samsonite folding chairs, candleholders and party lighting, art glass plates & vases, geometrical wood turned vases, large blue and white Asian ginger jars, Steinhorn & Gruen Bella Art Ceramics of Venice, CA, misc. electronics & sound components, Direct TV recorders, 19" Phillips box TV, 2- 24″ table top flatscreen TVs,  DVD & other players, a large new and many boxed 'gifts aplenty' , very few books, 2 – Sony stereo CD players w/2 speakers each, South Seas drum, 2 side chairs for desks, pr. twin mattress bed sets w/white Formica corner table, many throw pillows, assorted barbells & gym equipment, luggage, 60's student lift top desk w/attached chair, California State campground style picnic table solid w/attached benches, boxes of MRE's, Velton telescope on tri-pod, papier mache' sculptures, brass/wood table wine corker, 2 woven brown bean bag chairs, Vari Kennel 36" x 24", Mexican fiesta party decorations, Coleman— 4-man dome tent, coolers, coffee pot in box, camping tables, folding chairs, 3 pool club chairs, birdhouse, 36" tall propane patio heater, garden pots, garden items & more. Lamps—blown glass tortoise shell table lamp, tall Torchiere standing lamp,  lg. ceramic jar lamp, metal geometric cylindrical lamp, green pottery ceramic lamp, pr. vintage reproduction prophyre silver tone lamps, Coffee Tables—4' x 4' iron & glass coffee table &  44" x 34" wood pedestal. Side Tables— 27" round iron painted in gold, hemp wrapped geometric, 2 – 3' x 3' two-tiered square wood, 36″ x 36″ wood.
Art Work—L. Simpson Oil Painting "High Mountain Forest Scene". Ronald Ross Watercolor "Carmel Valley". Mary Williams Large Oil Painting "Floral Still Life", Unsigned  Oil Painting "East Coast Port Steamers & Sloops"  C. 1900. Julian Oil Painting "Nude". Lloyd M. Faulkner Watercolor "Circus Lady & Tiger on Ball" 1919. Sindelaer  Sketch "Navaho Woman at the Springs". DeWolf Sketch "Navaho Trader". Del Mue Block Print or Acrylic "Mountain Peak". Illegibly signed Oil Painting "Country Church Pastoral Scene". R. Delecocop  Oil Painting "Floral" 1944. George Morland Engraving "Saturday Morning". Three Walter Lantz cells–all are stamped and one is signed by Walter Lantz. (Woody Woodpecker in a Money Bin, Chilly Willy & Bear, Woody Woodpecker's Party with all the Lantz characters).
July 24, 2011 by syes · Leave a Comment
This is a sale that you will not see again. Imagine! A 22,000 sq. ft. party and entertainment home, guest house and garages displayed with furniture, decorative accessories and art work. The stunning view is phenomenal and set in a horseshoe shaped canyon surrounded by more of the most rugged hills around.
This is the home and possessions of  Stanford Jolley, Academy Award nominated Art Director for Witness with Harrison Ford & Kelly McGillis. Other credits include Caddyshack,  The War Between Men & Women, Young Billy Young,  Phanx among many others.  He was also one of Disneyland's main designers in the early 1950′s with Walt Disney, Herb Ryman and others. His father, I. Stanford Jolley, was a well-known actor and his  face was regularly seen on the silver screen from the 1930′s to the 1970′s. THERE WILL NOT BE ANY MEMORABILIA OR DISNEY SKETCHES BEING SOLD AT THIS SALE.  Stan is living and now resides in smaller quarters.  Call and leave your name with us to see Stan's beautiful home and pick up something for your home.
NO ACCESS WITHOUT PRIOR NAME NOTIFICATION TO THE GUARD GATE.
70813 Hwy 111 is the address for the guard gate at Thunderbird Heights Estates. This is just west of the Fire Station.
Friday, July 29th & Saturday, July 30th only. It starts at 9:00 am and runs until 3:00 pm.
The furniture includes a 20' sofa, a 20' South Seas carved rafter, 4 large overstuffed club chairs,  ceramic, carved wood & iron statues; brass, pr. tall bronze urns, Waterford, glass & ceramic lamps; wood, brass, Lucite, metal, wicker, terrazzo & modern hall consoles, coffee and side tables.
Also, a black dining table w/figural elephant carvings & 8 chairs, 12 pc. 1920's-30's carved oak Mediterranean style furniture set owned by the grandparents–sofa, chair, chest-on-chest, sideboard/buffet, hall console, built-in extending dining table & 6 chairs; art prints & pictures, oil & watercolor paintings, white-washed master bedroom set w/columnar  4-poster king bed & mattresses, bedding, armoire, sofa & loveseat; side tables, very large mirrors, low tables, exercise equipment, 2  queen guest room head & footboards w/mattresses & bedding, 2 matching bed benches & night tables, long 9' composition relief wall mural.
Asian—large ornate armoire & buffet table, large table lanterns, pr. upholstered arm chairs, pr. mirrors w/ basket grill doors, 2 carved camphor wood chests, carved demi -lune table, mirror, 2 stands, chrome dinette set,  wall panels, planters on rosewood stands; 3 section brass/glass/mirror  & another display cabinet, lg. bronze mountain goat statue, pr. teak benches, mini up-right piano.
Rugs– blue ground w/white sculptured rope border, Turkish, Mexican & Asian area rugs, ottomans, many table & 4 chair game/dinette sets, FM 18" Frederick Remington bronco statue, 16" bronco statue, silver plate candelabras, floor globe bar, china dishes, pedestals & stands, king size mattresses & bedding, sofas, dolls, toys, crafts, & games, white painted queen headboard & mattresses unit w/cabinets, mirror & lights.
Full size bike iron plant stand, BBQs, box TVs, faux plants/trees, crystal, lots of good bric-a-brac, books—(old & new) novels, motion picture, biographies, golf, tennis, encyclopedias; cranberry glass & crystal candle holders, figural camel table, Buddha, man, horse, giraffes, knights & elephant statues, chandeliers, kitchen, serving, lg. jars, accessories, bar glasses, ships models.
Patio—pots, multiple side chair sets, gliders, chaises, table & 4 chair sets, side & coffee tables, ottomans in wicker, wood, cinder block, iron, & metal. Too much to list!
Some items may still be removed by the owner. We hope that will not happen, though.
Here are some pictures to entice you. It will be worth the trip.