May 11, 2013 by syes · Leave a Comment
Friday May 17th          8:30am to 5:00pm
Saturday May 18th   8:30am to 5:00pm
5410 Westridge Rd Anaheim Hills 92807
(Nohl Ranch Road – South of 91 Freeway & Imperial Hwy.)
Don't go into the Fast Trak Lane by mistake when going east on the 91
We are traveling out of our local area and we are going to Orange County. For those of you willing to make the trip you will find it worthwhile. This 2800 sq. ft. home is filled with wonderful smalls, china, dishes, oil paintings, rugs, decorative accessories, furnishings and a lot of books. The owners have histories in the Air Force and Hughes Aircraft Co.
It is in a fine neighborhood and is a house for entertaining and exploration. There are hundreds and hundreds of books which topics include: Aviation, Math & Slide Rule Use, Zoology, Natural History, Fishing, Archaeology, Guns, Movie Making, Bibles, Geographical, Travel, Music, Composers, Art & Paintings, Western, Reference , Botanical, History, Political, Atlases, Geology & Minerals, Jewelry, Dictionaries, Birds, Gardens, California, Anthropology, Golf, Cookbooks, Navigation, Aviation, English Countryside, Novels, Coffee Table Books, 8 Volumes Will Durant History 1954, Encyclopedia Britannica Set 1966, and more. Also, some fine book end sets.
Furniture includes a tall 6' carved ornate wood display cabinet with bevel glass, a round Middle East brass tray coffee table on wrought iron base, 3-Section 6' tall dark wood bookcases, misc. side tables & side chairs, Thomasville dining table & 6 chairs, Ethan Allen multi-glass bowed panes china cabinet, Hickory Furniture– king size headboard & mattress set, bedding, bed bench, pr. bombe' night chests, long dresser & mirror. Pr. six-sided cabinets, queen wood headboard & queen mattress set, bedding, 1930's/40's round mahogany leather inset coffee table w/drawers & splayed legs, misc. tall & short bookshelves, vintage round drop leap colonial style table & 4 Windsor chairs, 5 drawer lap top shelf wood executive desk & other desks, wood cabinets-old & new, 1950's/60's modern olive green swivel desk chair & others, old console TV used as buffet cabinet, 7' rolled arm damask sofa in ivory, 8' Tuxedo sofa, old painted  brown chest, buffet, pr. 60's/70's arm chairs, demi-lune hall console, ornate gilt mirror, pr. 36" lighted marble turned stands, antique shoe stool chair, light blue wing chair, Hepplewhite secretary bookcase desk, mahogany stand, Baker Co. corner table, pr. small beige club chairs, mahogany Queen Anne drop leaf side table & oval coffee table, White sewing machine in cabinet, pr. reclining wing chairs in darker blue, Lamps—shiny brass standing, powder coat silver table, 2 pr. antique brass table, ceramic, folding work table, desk, crystal & pressed glass, tall modern 60's amethyst modern glass, European floral glass, antique tall bronze & oil wick lamp and others.
Porcelains, silver plate, ceramics, crystals, wood, marble, glass and metal are there. There is much silver plate serving pieces and a 5 pc. coffee & tea service, trays, bowls, candleholders, pitcher, candy dishes, etc. Crystal goblets, vases, ring stand, decanters, candle holders, biscuit jars, bowls, vases & more. Approximately  115 pcs.  Minton  "Spring Valley" floral place settings & serving dishes, 6 pcs. Aynsley "Cottage Garden" misc. pcs. , Russian tea set in blue & white w/gold trim, vintage Japanese tea set, many different cup & saucer sets, other china sets, tea pot collection, glassware, 50's/60's decorated tumblers, & vintage punch bowl and cups.
Art includes multiple medias of watercolors, oil paintings, Japanese block prints, antique etchings, new  & vintage lithographs. A list of the rest of the art will come mid-week in the coming week.  For example,  pr. of Balinese etchings nude numbered & signed by W.G. Hofkar, Yodel Haufbrauer by Kouinnsky, western oil paintings, seascapes by Blanch, R. Honkell seascape, DV Huhoy mountains & lake, vintage European oils and more.
Decorative accessories are many and fill this lovely home. White porcelain bamboo umbrella stand, Imari pieces,  Lladro clock, Kuan Yin figurines, 3 Royal Doulton Toby jugs, throw pillows, cache pots-Portmieron, Italy & Portugal, pr. antique wood busts, perfume bottles & dresser tray, ethnic items– carvings, statues, swords, misc. pieces. Antique wood chocolate molds, blue & white porcelains, 18' carved marble boy w/backpack statue, cranberry glass, hand painted porcelain plates & pieces, 30" brass candlesticks, large elephants statue, Japanese porcelains & cloisonné jars, Beleek tea set & snack sets (green labels), Lalique pieces,  reclining Roman woman statue on base, etc.
Rugs—One Persian rug "Tree of Life" 4'x6', wool Chinese rugs-6'x9' dark green floral, 4'x6' foam green floral, 9'red rug runner floral, 4'x6' light blues birds rug, 6'x9' mauve floral.
Household and garage things:  Kitchen—utensils, mixing bowls, Pyrex, cookware in enamel  & aluminum, cookbooks, Kitchen Aid mixer, glasses, Bissell vacuum, towels & table linens, box TV & stand, file cabinets in wood & metal, men's & women's hats, HP printer, Dell computer, monitor, keyboard and mouse, men's clothes—M  16-32/33 shirts, 10 ½ M shoe, white dinner jacket, sport coats, jackets, dress shirts, room fans, golf club sets by Cougar Golf and Wilson, luggage, hand power tools, some tools & hardware, auto,, typing tables, baskets, Maytag washer & gas dryer, old redwood patio table, tall wood folding ladder & aluminum extension ladder, garden  tools, chemicals, cleansers, old tool cabinets, tool boxes, plants & tree, and so much more!
April 13, 2013 by syes · Leave a Comment
Friday April 19th     9:00 to 4:00
Saturday April 20th     9:00 to 4:00
Sunday April 21st     11:00 to 5:00
Monday April 22nd     10:00 to 4:00
Tuesday April 23rd     10:00 to 4:00
Toluca Lake  91602
Get off the 101/134 Ventura Freeway,
Turn north 2 blocks to Kling Street,
Turn right one block to Ledge,
To those of you who have attended our sales for the last sixteen years, we have a really fabulous home for you, and for those of you who have joined us within those years. This sale is one of our top five for antique smalls, decorative accessories and just a wonderful life-long collection. This household represents a family who started with nothing, and through hard work and perseverance accumulated and collected what they desired. The legacy still lives on and the American Dream is manifested here. The opportunity to succeed and the freedom to accomplish it are represented here.
The furniture, paintings, bronzes, antiques, jewelry, art and Depression glass, porcelains, Asian and American pieces fill this home. Here is a partial list: 1920's Medieval style hall table w/mosaic top & a wine cabinet, marble clocks & accessories, enamel & brass umbrella stand, 1930's Art Deco front door chimes, chandeliers—crystal, mission, brass, 19th C — gesso mirror, roll top American desk, Art Nouveau carved wood side table w/water lilies motif, watercolors, gilt cast iron side table, porcelain & bronze & brass figurines—statues, bowls, cache pots, lamps–Tiffany style, Art Deco woman, large driftwood, pair of 14"griffins, blue & white porcelain, 3 California tile top tables, area rugs—20's Chinese style & vintage Persian, lawyer's bookcase & several other display cabinets, Richmond & Green of Glasgow ¾  height upright piano w/built-in candleholders, mirrors, books and magazines—large coffee table editions, Judaica, antique & reference books, history, Israel, catalogs, fashion, art, travel, novels etc.
Smalls include antique cut to clear ruby glass, art glass. Asian items—antique & vintage scrolls, enamel vases, soapstone & jade carved figurines, ginger jars, mud men & porcelain figurines, boxes, stone flowers, grapes & candleholders, antique Japanese prints, Chinese needlework, reverse painted Japanese portraits, koi fish carved round coffee table, small side tables, antique cinnabar ginger jar, Geisha robes, standing table screens, embellished bar cabinet, amber jade mud & porcelain figurines, carved stand, snuff bottles, export china, plate & statue stands, framed fan, Samurai doll, vase, artwork. Pre-Columbian artifacts, rocks from ancient cities in small boxes, paperweights, Toby jugs, decorative plates & pitchers & vases, Staffordshire dog pairs, lace lady figurines, vanity items, old toiletries, fans, silver plate & some sterling, American brilliant & other crystal pieces, -Victorian porcelains, perfume bottles, 1930's/40's flatware in box & unused, steins & tankards, stemware, vintage bar accessories, dresser mirrors, picture frames, antique doll wardrobe & dressers, dozens of porcelain plates on the walls, punch bowl, antique glass & Depression glass of all types, jewelry—estate, real, costume and so much more!!!
Art will be listed later with some exceptions: old signed etchings of harbors, signed & numbered lithographs—matadors, romance, landscapes, European. Oil paintings, portraits, old photos, enamels, fashion prints, mid-century modern, old Maxfield Parrish prints, N.C. Wyeth print, antique & vintage silhouettes, nude, clown, signed Marc Chagall numbered print, 1981 Peter Max signed & numbered print, vintage Joan Miro print, Corot litho, antique pastels and more!!!
–Art Collection and Artists In This Home
–Baum, E.N. Preston, Shatobir, Japanese Block Prints, Matador Lithos, H.S. Saltzman, H.H. Flynn, Al Wettlet, Judith Dragonette, –Ettheridge, Fields, Paul Gregg, Edward Biberender, Romeo Monte, Elissa Dorfman, John Kelly, Vernon Liftwick, Belvia, Berry Douglass, –Robert Quett, H. McCaig, and other illegible signees.
Just added–Dame Judith Anderson-Macbeth Costume Original Sketch. She stared with Sir Laurence Olivier in London in 1937 and in 1941-42 with Orson Wells in New York
Other items include coffee tables, ormolu stand, 1920's desk & chair, 1910's velvet & carved wood red velvet sofa, throw pillows, candelabra, antique fireplace accessories, wall and mantle clocks, antique side tables & cabinets, matching — antique chifferobe/closet, headboard, dresser/chest, pr. side tables, valet, antique ormolu headboard, wood armchairs, bar stools, antique French commode with marble top, ottoman, executive desk, old knee hole student desk, office shelves and file cabinets, pair ladder-back chairs, 1960's curtains, linens, sheets, towels, doilies, fabrics, old, blankets, linen calendars, dictionary stand, women's vintage and retro clothes, shoes, turn o' century oak china cabinet w/glass curios on each side, Verlys glass vase, copper cookware, kitchen, Kenmore side by side refrigerator, potted plants, patio items.
So much more in the garage! I will list it later. PLEASE NOTE! There is so much in this house that there is plenty for everyone. We are extending this sale to 4 ½ days and will make it longer if we have to. We will notify you of the extension of days if we decide to.
Please remember that we cannot quote prices over the phone or internet. Pricing happens Thursday night (late).
November 5, 2012 by syes · Leave a Comment
252 Tavistock Avenue, Los Angeles, 90049
Friday November 9th  from 9:00 to 5:00
Saturday November 10th from 9:00 to 5:00
Sunday November 11th from 1:00 to 6:00
We are back on the Westside in a six-figure neighborhood and it is filled with beautiful things. We have Asian, Country, Middle Eastern, vintage Mahogany, Contemporary and French Traditional. To say the most, it is filled with beautiful decorative accessories just in time to begin shopping for your friends and loved ones.
Rather than trying to trek you out to Westlake, we have brought Westlake to you. Exquisite and lovely possessions from a family that were going to sell all of it at a garage sale! With gracious permission from Westwood, we embellish their already classy household to bring you even more of a treasure house!
Highlighting this home is a oversize Baker 6' china cabinet and a Baker 40"x87"curio cabinet, 7'white sofa, plaid loveseat,5'-6'gingham & floral sofa & club chair, beige & cream stripe loveseat, white painted 3-tier curio cabinet, handcrafted cabinet w/curio display unit, modern leather lounge chair w/ottoman, pr. charcoal club chairs, 8'x10'leopard center pattern/bordered in flowers rug & runner under a Fr. Traditional black resin topped dining table, buffet and 6 chairs.
Also, wall shelves, mirrors, black & cream area rug, Asian desk & chair, lamps–tole, porcelain, ceramic, brass, wood, painted metal, many framed pictures & posters—Japanese, Hopper, 50's-60's art, framed tools & coins, mid-century, prints, oil, lithos, watercolors, etc., wall shelves & cabinets, coffee tables—white painted 4'sq. wood, 2 round oak coffee tables, cookbooks & other books, decorative accessories, mirrors, side chairs & many side table sets & singles(one Lucite), hall tables, 4 & 6 panels screens, dressers, pine armoire, queen mattress set w/wood headboard, king mattress 2 post headboard w/2 twin mattress sets & bedding, other wool area rugs, footstools, bistro table & 3 chairs, kitchen & dishes, pewter pieces, boxes, throw pillows, decorative accessories, '1000 Year Old Chinese egg' pot, barware, crystal glasses, much fine M to L size men's clothes suits & shoes, Middle East trunk & brass pcs., many vintage linens & bath items, china & porcelain antique figurines, U.S. Revolutionary War figural soldier decanters, silver plate, silver & amber & costume jewelry and fun smalls, ornate brass fireplace tools/andirons, LPs, computer desk, wood file cabinet, computer & speakers, printer, patio table w/6 chairs, potted plants, a wonderful tool shop for you guys with lots of power tools & hand tools, washer & dyer, & more!
 The flatscreen TV and butcher block table in kitchen are NOT for sale!
July 27, 2012 by syes · Leave a Comment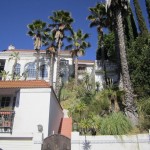 How often do you get to visit a hillside 1920's Hollywood style home in Sherman Oaks? Well, next week is your chance. We are presenting the 17 year residence of a celebrity couple, Bill & Cristina Barretta.  He is best known for his work from the beginning of The Muppets with Jim Henson & his son. He plays the Swedish Chef, Pepe' the King Prawn, Rowlf the Dog & Dr. Teeth.  Cristina is an artful & talented set decorator as her home reflects.
LOOK AT THE PHOTOS AT THE BOTTOM OF THE WRITE UP.
Friday August 3rd 9am-4pm
Saturday August 4th 9am-4pm
Sunday August 5th 11am-5pm
Monday August 6th 10am – 5pm
Contour Dr., Sherman Oaks, CA 91423
WARNING! The 3400 sq. ft. home is entered by climbing 52 steps. Tennies or walking shoes are advised. The outdoor, incline elevator is for those 75 years or older if you can't handle the steps.
This European feel home contains antiques—floor lamp, boxes, Bernhart Co.— oversize china cabinet, marble top buffet, 110" pedestal dining table, 2 side chairs. Italian chairs—4 from the estate of 40's/50's singer Perry Como & 4 others, silver painted– coffee table, mirror, pedestal, 2 wall shelf sconces, Fr. style Fautieul chair & ottoman, salon chairs–2 pair & an oversize, 2-1920's bronzes by B.J. D'Aote  & Chiparus, 8 ½' brown rolled arm sofa, throw pillows, 3-18th/19th PA architectural fixtures, Arte' de Mexico—lg. iron sofa/hall table, iron 12 lite chandelier, & wood settee. 40's/50's Regency & Fr. style armchairs & game table w/4 silk damask tufted chairs, rd. Victorian tufted ottoman, metal baptismal, sideboard, Chinese armoire & rug, prints, Fr. cloisonne' clock, 2-18th/19th Spanish faience jars, linens, embroideries, 20's cabinet, Spanish side table, oval vanity, dressers one w/tri fold mirrors, a silk screened tapestry once owned by Howard Hughes, Art Deco chifferobe. Silk draperies and rods, lamps, china, crystal, barware, high end bric-a-brac, baker's rack, dozens of picture frames, wood easel, Liam O'Neill coconut wood crafted bowl, Lg. men's clothes, women's designer clothes S to L stunning vintage & newer, size 6 ½-7 shoes & boots, jewelry, kitchen, patio, toys.
ADDITIONS PROMISED LAST WEEK ARE:
The salon chairs swivel and are from the 50's or 60's. The fabulous game/soiree table is from the 40's/50's. There is a signed original Raoul Dufy watercolor from the 1930's to 1940's there of 'Ascot London'. (It is subject to appraisal and its sale will be determined this week).
2 Pr. glass & chrome lamps, ornate Italian style chandelier w/beads & gilt 39"t x 32"w, embellished needlepoint tapestries & runners w/ beads & sequins, chafing dishes in chrome & silver plate, barware & glasses, jewelry- vintage costume and gold, candles, #35/50 pen & ink etching by Keiko Minami 'Girl with Kite & Dog', lg. L-shape sofa olive green velvet, oversize Italian chair for 2, mirrors,  1920's oval side table with floral painting, 50's style ottoman table, leather chest & 2 ottomans, queen black wrought iron head & footboard w/mattresses bed, pr. Balinese masks, pr. antique Chinese wall tassel plaques, pr. Tiffany style table lamps, small wood console table, 50's style chenille bedspread, multiple dozens of picture frames, vintage rocking chairs and side tables, small appliances.
Men's clothes and shoes L, stunning vintage designer women's clothes M & L and newer designer clothes S & M,  women's shoes & boots 6 ½ & 7, toys-Legos, radio controlled cars, Batman child's table & 2 chairs, blocks-natural & painted, musical instruments & real amplifier, games.
Chinese cabinet, lg. executive desk w/ 2 matching file cabinets, antique boxes, new inlaid humidor and jewelry box, retro Harmon- Kardon 'Space Age Speakers', pr. new in box and unopened Bose speakers, desk organizers, photo printer, new California King Temperpedic mattress (cost them $3000), 5 piece bedroom furniture set- Head & Footboard, 2 tall dressers, entertainment w/drawers cabinet, 2 side tables.
There is a bed bench, 4 pieces rolling luggage, valet case, many travel bags, Bushnell 'Voyager' telescope, many perfume bottles, silver plate serving dishes, large antique style reclining nude oil painting & another antique frame nude print, books—large coffee table books (Sinatra, Beatles, Jackson), movie, biographies, novels, health, travel, wedding & parenting, 6 wood shabby chic bookshelves, tins, Moorish lantern w/colored glass, lg. antique repro 'Angel  and Woman' oil painting, lg. entry mirror in black & gilt 44"w x 68", 2 large chrome & crystal entry & family breakfast room chandeliers—one 20 lite (36" x 50") & one 18 lite (36" x 30"), ornate, heavy ormolu figural cherubs entry console, machine made Persian area rugs, Knight helmet,  unframed European oil 'Village', pr. gorgeous carved wood Korean vases, 7' alder family dining room table & 6 chairs w/tapestry seats, pr. Mexican children's chairs & serving dishes, Chinese fish bowl w/faux tree, wrought iron baker's rack, 1920's/30's picnic set in valise, Christmas, Lenox china pieces, vintage decanters & cordials sets, Lladro, 3 box TVs, small boys bike & helmet, 2 scooters, vintage & new  textiles & draperies—4 panels tall gold/olive/ivory, 8 panels tall gold/brown striped silk with wood rods & finials, 6 panels tall silver/gray/gold striped shears, many panels (maybe eight) red velvet, emerald green & yellow striped vintage, burgundy & ivory, newer tapestry in  burgundy/blue/ivory/gold/green and more.
The front terrace contains three large faux terra cotta pots, 2 chaises, round patio table & 4 chairs w/umbrella & stand, Italian potted plants, and an abstract copper fountain. The back Tuscan style  patio has a wood table and 8 wrought iron chairs and woven seats, vintage iron two-shelf console, a vintage iron French style demi-lune multi-tiered 4' rectangular plant stand, potted plants, 2 Mexican wall planters, an Italian wall fountain, a copper/brass table fountain, 2 wood bar stools, clam steamer, Williams- Sonoma $1500 iron pot rack, three balloonist mobiles, folding chairs. That is it as there is way too much more to list.
There is no Muppet Memorabilia at this sale.
The 'Starry Night' faux oil is not for sale.  (I made a mistake. It is a keeper for the family)
                           Faux Plants Are Not For Sale, Except For the Chinese Fish Bowl & Tree
                      The flat screen TV's are not for sale, nor is the black console in the TV Room & the mirrored console in the living room is NOT for sale.
Here are some pictures.
December 1, 2011 by syes · Leave a Comment
THE FINAL  2011  ESTATE
Friday & Saturday 12/10 – 9:00 to 4:00
Sunday 12/11 12:00 to 5:00
Monday 12/12 & Tuesday 12/13 10:00 to 4:00
Forman Avenue (South of Riverside Drive)
The Holy Days season is upon us and we have another opportunity to remember how blessed we are to celebrate the love of God. The gift of Himself to all mankind gives us the reason to continue living and to help others live on. We at Sharon Yost Estate Sales thank you for the best year in our 17 year history.
Thank you for your attendance and your patronage. For the last sale this year, we are presenting to you one of the most important homes we have ever produced. This estate is filled with one family's possessions and it is stunning. It is really amazing and I assure you that I cannot list it all on this postcard.
With 3 rooms empty, the remaining 15 rooms & guest house of this 11,000 sq. ft. home is sure to thrill your treasure hunt leanings. Holiday shopping is at its best here and well-timed for those special gifts to buy for your friends and family.
There is no jewelry!
There are antique, vintage, contemporary, country and reproduced furnishings, paintings, magnificent decorative items, serving pieces, Christmas, collectibles, glass and china. The formidable amount of each set of bronzes—Ukraine Rustler, Arab on Horse, Frederick Remington, Icart, Moreau, Mene (to name a few), bronze mantle & wood wall clocks, gilt framed paintings (florals, landscape, children, mother & child) & mirrors, antique Edison & repro phonographs, 7 Howard Miller grandfather clocks, Asian ceramic stools & fish bowls, Tiffany style standing & table lamps, antique style iron garden statues, fountains, & urns & planters, signed & numbered lithographs, and dishes is phenomenal.
The furniture is French, Italian, English, American and modern. A pair of heavy free-form Lucite bases hold up a 3' x 5' glass coffee table and a Lucite base 5' diameter glass top table w/4 white leather upholstery & chrome frame chairs, modern Austin Powers ball chair, 21' cream leather curved L-shape sofa & chair, 10' chrome floor gooseneck lamp, 17' caramel suede & dark brown leather sectional sofa, 2 dark brown dressers (tall & long), 2 queen woven wicker beds in caramel w/mattresses, queen brass headboard, ormolu— side tables, chest, demi-lune chests & ornate French style vitrines. Italian hand painted china cabinet(sorry, the family is keeping this), side chairs, long antique style side board, bric-a-brac, leather sofa & loveseat sets, white silk damask tuxedo sofa, 4' ornate sunflower face carved foyer table w/glass top, Victorian gentleman's mirrored dressing vanity, 9' glass dining table w/pr. Lucite bases, 10 Hepplewhite chairs & settee, small knick knacks, ant. sterling napkin rings, figurines, boxes, silver plate, crystal, ceramics, kitchen, dishes—Wedgwood, Franciscan 'Desert Rose' for 12, Block, Franciscan solid color burgundy and several other sets.
As a postscript to notification of this estate sale…
We started with an empty house. The entire home had been staged with newer items by the realtor to help sell the home. Just this Monday, November 28th and Tuesday, November 29th, our valiant crew of movers went into the 2000 square foot garage to move all the furniture upstairs to the 1st and 2nd floors! Wednesday and Thursday we moved decorative accessories, paintings, bronzes and bronze clocks, Christmas items, etc., from the five treasure rooms attached to the garage. Today, we continue to move items upstairs, display and hang pictures and paintings. Tonight you will see some pictures to show you the magnificence of this estate. Next week, we will have final pictures, hopefully by Wednesday night.
Friday 12/9

November 9, 2011 by syes · Leave a Comment
Friday November 11th & Saturday November 12th from 9:00 to 4:00
Sunday November 13th from 1:00 to 5:00
(Take Shoup Ave. off Ramp Going North on 101 Freeway)
All costume jewelry reduced up to 90%.

This is a house full of wonderful decorative accessories and furniture. There is a great amount of 60s & 70s vintage furniture and costume jewelry. There is much here, including lots of clothes, shoes, bric-a-brac and lots of miscellaneous household items.
Here, you will find a large black leather L-shaped sofa and club chair, 70s gilt coffee table, 4 tiered open book case, books-nursing, novels, Hollywood, health, side tables-wood, marble, metal, standing lamp, vint. round mahogany side table,2 wall CD/radio players, Hoover wind tunnel vacuum, a large amount of Sunday painter oil paintings-still lifes & seascapes, furs-new brocade jacket w/white fox fur collar, mink stole, fox jacket, small wall curio, pale yellow china cabinet & buffet, octagonal game table & 4 chairs, silver plate 7 piece tea & coffee service, tea cups & saucers, china—plates, platters, sets, boxes, vases, pr. antique Chinese travel dolls, candle lamps, crystal, glass, silver plate serving pieces, many picture frames, oil painting frames, 2 club chairs & ottoman, pr. brass/glass standing table lamps, pr. oak bar stools, 3 pc. gilt nesting tables, throw pillows, musical snow globes & carousels, faux fur throw, pr. wood & iron wall wine racks, pr. hand painted bed stands, 6 place settings vintage silver plate flatware in box, kitchen, ivory Whirlpool single wide refrigerator w/freezer on top, small appliances—toasters, blender, 50s Kenmore roaster, vintage Noritake 12 place settings 'Aileen', bric-a-brac, pr. corner metal wall shelves, computer desk, chair, computer, vanity items & fragrances, metal demi-lune hall table & mirror, linens, towels, sheets, blankets, comforters, pr. tall porcelain cherub lamps w/ornate fringe shades, king mattress set w/blue & white tufted headboard, layered chiffon bedspread, costume jewelry & jewelry boxes, long dresser in pale yellow w/mirror, bedside cabinet, gilt cheval floor mirror, dozens of vintage ladies' shoes in original boxes and clothes in 12-14 M & L, 80s pickled oak bedroom set—queen mattress set, cabinet headboard, overhead light unit, pr. tall cabinets, long dresser & mirror, size 12 wedding gown (preserved), large geode votives, Occupied Japan items, luggage, games & puzzled, Christmas decorations, Thomas Kincaide 'Winter Memories' house ornaments, wrapping paper, exercise equipment and tread mill, CDs, DVDs, handbags-evening, embellished leather, beaded, 2 Singalodeon karaoke machines, new Play Station MIB 'Dual Shock', boxed gifts, sunglasses, potted plants and more.
December 7, 2010 by syes · Leave a Comment
This 5500 sq. ft. estate is another home you will not want to miss. Our last sale of the year, it is a stunningly furnished house filled with so many treasures you will be amazed.
Inside it you will find high-end 19th and 20th century antique & contemporary furniture, books, decorative accessories, china sets, collectibles, paintings, sports, and contractor items. For an abundance of gifts, this will be the stop for you.
There is an American Heritage red felt mahogany billiards table w/leather baskets & ivory inserts, wall rack w/4 counters, 4 cues, & accessories, pr tall chairs & table, 18th c. English clock, a massive new Italian dining table w/10 large chairs & 3-20″ leaves extends it to 11', English Craftsman copper embellished side board, mirrors, crystal serving pieces & goblets, many chandeliers—wrought iron, brass, chrome & wood, crackled finish, crystal, Battersea, porcelain & ceramic boxes.
Area rugs, tall terra cotta urn on iron, antique & fine lamps, upholstered day bed in green & white toile, pair of matching tall cabinets, 4 poster antique tester bed w/blue & white linen toile, kitchen, oak high chair, armoire, breakfront desk, sofas, brown leather loveseat, 2 carved antique Etageres, wash stand w/tile back, Dansk china sets, Eastlake dresser w/marble top, Jenny Lind double bedstead, hall tree, Franklin baby grand piano, Art Deco style cabinet, 1920s-30s ornate Zenith radio, coffee tables—metal w/glass, Asian carved & painted, wood, brass.
Also, arm office chairs, 7' overstuffed sofa, loveseat & chair, wood painted wine cabinet and entry cabinet w/mirror, 12' straight sectional sofa w/large ottoman, pine–demi lune cabinet, entertainment unit, painted bombe' chest & mirror, ceramic vases, 20's side tables, 5' round glass top with metal & wood base & 6 chairs, real & costume jewelry.
Viking refrigerator, wine cooler, 36" six burner cook top, hood, BBQ & Kitchen Aid double ovens, trash compactor, dishwasher & microwave (taking offers, house sale pending).
Two small refrigerators, foosball game, contractor work surface sectional desk, ladders, Husky cement mixer (used once), 4 camera security system, job locks, Rigid steal on-site storage box, 5 HP compressor, Cannon gun safe w/digital lock, garage items, 2 round patio tables, 8 chairs, 2 umbrellas, iron lamp post, children's riding toys, aqua board, towing buoy, etc.
There is so much more and one of our largest top ten sales! A Raymond Enkebol long buffet cabinet with parchment motif carving, crystal- goblets, bowls, candle holders, bowls, figurines, & vases, 21 oversized red-orange glass buffet plates, 12 red-orange glass salad plates, shiny copper cookware & decorative pieces, dozens of cookbooks, old and new linens, 70's Dansk 36 pcs grey stoneware w/brown specks dinner set, platters—Asian, white ceramic, Wilton Armetale, china and pasta serving bowls, pewter pcs, 71 pcs red & white Johnson Bros. 'Old Britain Castles' hand engraved dishes set, 104 pcs Adams 'Old Colonial' English ironstone dishes set, Liberty Blue 'Historical Colonial Scenes' dishes set, Apilco France floral design lidded casseroles, fireplace tools sets, screens, brass sconces, escutcheons, carved wood trims, wall cherubs, tassels, decorative brass pcs, 19th C. beige blue & white china w/grapes & grape leaves design-beautiful!, antique glass, antique Enoch Wedgwood (Tunstall) ironstone dishes in green & white, navy blue leather ottoman, 22" 19th C. silver plate dome tray for poultry or a large roast, antique & vintage silver plate and sterling serving and decorative pcs, Victorian condiment castors, candle holders in brass, wood, glass, metal, English coachman hearth stool, brass 19th C. National cash register, collection of standing and table globes, books- antique and newer-Robert Louis Stevenson, Abraham Lincoln, Charles Dickens, Poe, British poets, coffee table, Time Life sets, novels (DeMille, Ludlum, Patterson, Fast, Wolfe, Clancy, Clark, Parker. Moving on: pr petite French velvet chairs, red & white toile sofa,  pr 36" 1920's-30's wrought iron & amber glass exterior chandeliers, oil paintings—1859 portrait, Sunday painter, Edna Hibel, 19th C. Charles B. Branwhite, framed posters & prints —Maynard Dixon, Roycroft exhibits & sayings, space, watercolors & serigraphs, a superb antique Hamilton wall clock, pr faux topiary trees, 4 Asian bird & floral pictures, newer exquisite armoire, porcelain boxes, picture frames,  Kosta Boda colored glass & clear crystal bottles & vases, lamps—porcelain, antique, oil, Waterford, metal, standing, ceramic, wrought iron (wall sconces, table & floor), needlepoint bed bench, pictures & throw pillows in petit point, antique prints and shelves, sheepskin rugs, many chandeliers—24" to 36" wrought iron, carved wood, brass & crystal, wood & brushed stainless steel, crystal, dresser mirrors and vanity items, dressing room chair, sm brass mirror table, figural cache pots, furs, ladies designer clothes L & XL, Ladies shoes size 9 & 9 ½, nighties and robes, embroidered sachets, quilts, early American textiles, men's designer clothes L Ralph Lauren polos & sport shirts, pr 70s lamp tables, library step stool, double brass head & footboard (needs TLC), sm painted floral chest, expandable carved wood baby crib, painted pine dresser & mirror, pr 9' Chinese rosewood panels, 4-7' Chinese rosewood panels, Jenny Lind head & footboard, Eastlake settee with matching comforter & dresser, children's toys & riding wheeled toys, RR train track children's rug & bed safety barriers, 100's of LPs, antique wood dresser mirrors, decorative Pigalle sombrero, 1930's Art Deco oak cabinet, stuffed animals & dolls,  ormolu & oak wall unit, 1920's woman at spinet piano & galleon framed prints, drop leaf table, 1930's dining table & 6 chairs, brown leather love-seat, manual fork lift, pr 1960's daisies upholstered twin head boards & bolsters, Sharp counter microwave, kitchen pots & pans, utensils, Roulette table top, oak dinette & 4 chairs, buffet & china cabinet, framed man's wedding shawl, 2 cabinet sewing machines, tools-power & some hand, picnic folding chairs, garage shelf units & file cabinets, auto creeper, standing hot & cold water dispenser. There is so much more!
June 21, 2010 by syes · Leave a Comment
Friday June 25 & Saturday June 26 8am-5pm
Sunday June 27 11am-5pm
(4 streets West of La Brea Ave 4 Blocks South of Melrose)
Thomas Guide: 563-C6                      Purse check in for security.            Numbers out at 7:00 AM Friday
Our policy is to not have any presales.
Our pricing occurs during the sales
with some starting amounts listed on the room sheets.
This is a beautiful 3000 plus sq. ft. home placed in the Fairfax area near Melrose and La Brea. This beautifully upgraded home is predominately decorated in the French style with many decorative Asian touches.  Here are the teaser pictures until we finish setting up and take our final ones.
Here, you will see an 8' taupe overstuffed sofa & 6' loveseat trimmed in wood, machine area rugs, 5'sofa table, pr ornate armchairs w/gilt trim, tortoise shell lamp on brass base, jewelry boxes—dresser, floor, 6 section India carved wood, 2 pr Amphore covered urns, cloisonné—eggs, vases, sm pitcher, vases. Many boxes—3 Israel Mother of Pearl & ivory, wood, glass, porcelain, & Battersea, Fr. Ceralene china dishes 58 pcs & tureen, platter, vegetable, art glass, several 6" to 18" prs Asian blue & white ginger jars, carved rosewood china curio, ant. porcelain jardinière, coffee table books, Abajour lamp, platters, entertaining serving sets & dishes, Tajine condiment set, Villeroy & Boch and Pierre Deux cachepots, Arthur Court hollowware-figural elephant torte server, chip & dip, trays, bowls, rect. Italian style dining table w/8 chairs & 2 leaves, iron & marble side table, pr faux crackled wood curios (18"D x 24"W x 80"H), silver plate—16 5-piece place settings flatware, trays, candelabras, appetizer lazy Susan, & hollow ware, 3 ivory Africa figurines, lovely table linens, 2  4-panel Japanese standing screens (stone appliqués & one painted), Japanned mirror & 4 nesting tables, Viani 'Rape of Sabine' Florence bronze statue by Giambologne,  queen head & footboard w/out mattresses & bedding set, 3 pc marble & brass ormolu clock set, Lucite framed Indian embroidered tapestry, skis & ski boots, 2 executive desks w/chairs, 5 other desk chairs, reception desk, 2 more pair French arm chairs, 3 pc secretary book case/curio cabinet, Jerusalem by Basson watercolor, wood scissor table base w/glass top, some costume jewelry, pine dinette w/4 chairs, Provence knife painting, bar accessories-crystal & glass, 2 Riviera coast oil paintings, 2 entertainment cabinets, Mitsubishi 40" TV, carved tusk, another 8' taupe sofa, Moroccan parchment lamp, figural draped metal coffee & sofa tables, perfume bottles, Fr country side oils, men's clothes & ties, women's designer clothes sz 6-8 & shoes & boots sz 8, reproduction ormolu furniture– commode, desks, round side table, Art Nouveau statue of a woman, abstract plaster mother & child statue, pictures & paintings, KISS pinball machine (not operating), patio & garden. An additional list will be available by Sunday night. No more room on this card!
Well, here it is! The addition to the postcard, and this estate's many possessions. All the items in this home are original to this home. Gorgeous! (The exception may be jewelry). Be assured that there is much more than we are listing.
There are two framed Chagall signed lithographs and a Salvador Dali framed & signed lithograph. All three are wonderful and a perfect purchase for art investment in this day's economy. There are several French countryside oil paintings by Nim and other artists. Crystal bowls in abundance—Nambe, pr 18" 3-lite metal candelabras, candleholders, fireplace set in black iron & brass trim, vases, kitchen—sm appliances, double wide Frididare refrigerator in brushed chrome & 5 years new, utensils, dishes, pots & pans, etc. The decorative accessories are beautiful, 16 sets of Noritake tea cup & saucers w/2 sets of sugar & creamers in Kingswood Platinum, 14 glass chargers, French sterling boxed baby cup & spoon by Daniel Cregut, brass cache pot, colorful painted fruit glazed ceramic bowl & platter, figural floral individual porcelain knife rests, cake plates, fine table linens including capiz shell, Pierre Deux, and embroidered, small multi-drawer standing flatware chest, butler's serving table, lg fruit still life oil by Loving, 36"abstract glazed 'Mother and Child' statue, busts, bookends, hall console table, 3 drawer desk, Japanned plant stand, Lucite framed Japanese doll, painted white bookcases w/blue & white toile paper lining, standing picture frames, desk lamps, pine round dinette table & 4 chairs, new 32 bottle Magic Chef wine cooler, whitewashed base & 4 decorative chairs w/glass top table, Italian X bench, side chairs & many pair of Directoire chairs– gilt & white, taupe velvet, brown floral vine, faux crackled finish, Chess & Backgammon sets, painted Asian drop front desk & chair, pr abstract glass candleholders, Decopauge glass plate, decorative Turkish knife, round corner table w/beaded embellished cloths, reverse painted Emperor & Empress pictures, standing & table lamps, mirrors—carved wood, black lacquer, oval, ornate, gray metal w/pr sconce lamps. Still more with excellent condition 19th c. Singer sewing machine w/bracket that displays the machine and shows the case all at once (very clever!), multi-crystal block quartz candle holder or flower vase, framed Asian embroideries, pictures, pine 3-drawer bedside table,  pie crust table, vintage Pinkie & Blue Boy framed prints, an amazing perfume bottle collection, faux palm tree, ficus, and other plants, 5 framed map pictures, faux fireplace logs on iron rack, framed Disiderata, cute 18"side table commode, ormolu round side table, bamboo side chair w/leather seat, a 'Leg Magic' exercise machine, 2-tiered phone table, wood box with key, 2 different 18" plaster columns, lg. shell in Lucite box, 4'simple design black painted cabinet, 2 Venetian & etched standing mirrors, tiered chrome towel stand, overstuffed velvet animal print chaise chair & club chair w/ottoman, man's valet stand, animal print rugs, Robert Doisneau photo poster 'The Kiss" 1950's Paris, portable outdoor bar w/refrigerator, sink, and storage and has a tile top, treadmill, elegant 7 pc patio set w/an unusual arch umbrella, iron tea cart, nice potted plants, patio settee, French wire stand & bench, black Formica bookcases, 2 iron chaises & side table, boy statue, umbrella, 4 sm hanging glass planters, deep freezer and more!
June 16, 2010 by syes · Leave a Comment
Fri. 6/18 & Sat. 6/19 8 am – 4 pm   Sun. 6/20 12 – 5 pm
Purse check in for security.
Numbers out at 7:00 AM Friday
This is one lovely home, impeccably spic and span, containing overstuffed furnishings, antiques, decorative items, books, art glass and Disney collectibles. This estate's owners work in the theatrical, film and television industries and will be selling some of their Hollywood and Broadway entertainment collection in this sale.
We are adding 20 pounds of costume jewelry from this man's mother. They are coming from his parents home in Palm Springs. We have not seen it yet, but it should be great.
There, you will also find books of novels—Clancy, Koontz, Ludlum, Grisham and others, art & media books, Playbill & entertainment magazines, sofa & chairs, carved Asian coffee table w/faux green marble top, wood & upholstered arm chairs, newer style area rugs—solid, design, Dhurrie, art glass & crystal, geodes, bric-a-brac, antique angels, sterling cow creamer & wine taster, miniature mirrors, fish, owl, turtle, Art Deco & other figurines, painted Russian dolls, decorative items, bell, French crank novelty wood automatons, door knobs, bar accessories & glassware, glass & other side tables, a stunning metal obelisk lamp, ornate clock & candlestick ensemble, 3 abstract nesting tables, sm. ant. cabinet w/marble top, folk chic console table, N.D. Corby 1981 signed litho #96/150, blue & white Asian china, multi-color ceramic serving pieces, cookbooks, wine goblets, vintage table juke box, kitchen—bake ware, sm. appliances, cookware, trays, vintage bird salt & pepper sets, microwave, dishes, etc. Continuing with a j. botz framed print, pr. bar stools, glassware, 'Newport' Mikasa dishes, platters, vases, antique wood box calendar, modern standing lamp, 6 drawer dresser, pictures, wood Craftsman style lamp, a futon or lofa, Mickey Mouse collectibles, chic Harlequin painted cabinet bookcase, Toshiba DVD VHS 19" color TV, brass shell lamp, signed David Hockney 1983 Venice Art Walk litho, glass computer desk, men's suits & jackets size 40 & 42, two red easy chairs & ottoman, tagged French oak table w/4 carved fruit back chairs from Nice, metal console table w/crackled wood top, pr. beaded shade boudoir lamps, melamine modern 50's style patio dishes, pine cabinet, tree style lamp, neon clock, patio furniture—2 chaises, two patio tables w/chairs, a well-used gas line BBQ, potted plants and more.
Sharon Yost Estate Sales                     Our Email: Sharon@SharonYost.com