Hancock Park/Mid-Wilshire
June 17, 2009 by syes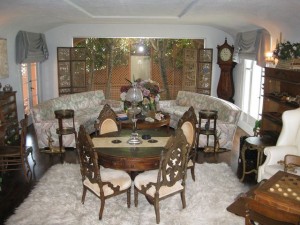 This sale is over. What a great home to stage in.
Our next sale is around July 10th. We will let you all know the details.
Friday: June 19th from 8:00 to 4:00
Saturday: June 20 from 8:00 to 4:00
Sunday June 21st from 12:00 to 4:00
Monday June 22nd from 9:00 to 3:00
 The address is familiar, but the contents of a four-story Century City condo are not. Treasures from this estate are, in our estimation, the best that we have ever presented for sale. These antique 19th-20th century and vintage items and furniture are from the home of the former 12-year CEO of First Interstate Bank. Most pieces are in very good to excellent condition. Sprinkled in are some pieces from other homes. An amazing collection to see and be a part of!
The oldest are exquisite polychrome angels, altar boy statues and 2 torchieres (one is silverplate) from continental churches . Included are a French ormolu buffet w/mirror and marble top, many 19th c. English silverplate hollowware items: food warmers, boxes, 30+ round wonderful Art Nouveau silver overlay trivets from 3″ to 18″ , wine coasters, coffee pot, inkwells, tea strainers, toast racks, tipping teapot, decanter, crumber, epergne, 25″ Fr. mirrored plateau, 19″ tall Art Nouveau crystal bowl on stand, 23″ Baroque cachepot, vases, bridal basket, 19th c portrait of a woman and more.
Many brass candleholders 6″-28″ and wood candleholders 5″-46″ tall. Chandeliers: pr Waterford, sm. silverplate, wood chain-beaded w/sconce, ornate brass and crystal, gate leg sidetable, 6-7 ft. vertical bankers file cabinet, piano, vanity and foot stools, rare 6′ to 7′ French chaise, 2 scales-marble/glass & porcelain/brass, kimono wall hanging, vintage and 80's/90's ladies designer clothes (sizes 12-14): Gucci, Chanel, Chloe, Valentino, G. Pal, small church pew, wingchairs, fur coats and jackets, decorative accessories.
Bedroom items are: white washed king headboard, pr tall side table/cabinets, entertainment armoire, bed bench, side chair, pair twin mattress/box spring sets, 5′ tall American wood stand w/brass gong and puffed stick, Ivory Coast carved wood chief's door, wine coolers, pair ornate carved Japanese screens, unusual large oak lawyers bookcase, pr curved chintz sofas, 4 Victorian sidechairs, American Brilliant and crystal pcs: butter domes, vases, lidded jars, bobeches (candle wax catchers), bowls, tumblers, ice bucket, dishes and carafe. Textiles, embroidery, needlepoint picture, linens, ladies desk w/leather insert and lion pulls, executive desk, pair matching 7 drawer armoires, antique 3-panel glass & wood wisteria painted screen; lamps: archaic bronze jar, brass, terra cotta, carved wood Kwan Lin, milkglass, polished wood statue, amber glass. Wm Hanes bamboo octagonal table, ormolu side tables, carved bases, antique cane seat glider rocker, many pricey brown glazed garland design pots and plants.
ALSO–One of two sets in the world- a Brown & Jordan dining ensemble from ' Send Me No Flowers'  staring Doris Day & Rock Hudson (The furniture is white in the movie.). Second one was owned by Jane Wyman, actress and first wife of Ronald Reagan. Set includes painted gold Art Nouveau design pieces and consists of 2 pedestals w/glass top, 4 armchairs, 2 sidechairs, plant stand w/glass top and ornate buffet. Hollywood memorabilia! Also, a double column Italian oval dining table w/10 chairs, w/3-18″ leaves in light satinwood finish.  It is 66″ x 46″ and extends to 10′.
Here is more! There are 14-6 piece place settings of white, fluted Mitterteich china including teacups and coffee cups and some extra pieces. A teacart, 2-tiered oak buffet cabinet and mahogany what not, antique and vintage amber glass pieces, cookbooks, an antique Eastlake secretary bookcase w/ curved roll lid, small English dresser top mirror w/drawer, tabletop checker/chess board w/checkers, many small brass w/bevel glass picture frames, American Victorian travel 8 to 10 drawer jewelry box, 'dPj' initialed fluffy towels, modified rectangular red wool area rug with concave corners, pr silk damask arm chairs, antique painted 3-tiered wood clothes dryer rack on stand, 5-tier iron pot rack, 4-legged tall magazine rack, tall tripod wine cork puller, videos, some LPs, quilt racks,  fine 19th/20th c. antique Chippendale style three seat back settee, English cottage watercolors, framed Music Center 25th anniversary poster, late 18c mahogany tall case clock from Scotland, English round wall clock, folding table w/2 chairs, bookends, antique metal/beveled glass, oak mirrors, antique low American oak dresser, lace throw pillows, French mantle clock, baskets-antique and ethnic, American Navaho rugs and textiles, many side chairs, butcher block table, 12″ to 18″ English pie crust table stands, round Victorian table plateau, figural Bowler hat wood 'bulletin' board, statues–nudes and couples, lace balloon shades, letter box, 30″ x 30″ floral needlepoint picture, 9′ Fish Eye Bidjar 220 knots per inch Persian rug runner (retails for $17,000), antique crystal hurricane lamp, wall shelves, upholstered easy chair, Victorian sewing box, masks-Asian and ethnic, antique glass and wood linen storage cabinet w/16 small doors (OOPS, it is a ribbon display cabinet), English brass umbrella stand and canes, Sony TV, antique Italian cathedral tapestry adjustable fireplace screen, antique C. A. Looff tall carved wood pedestal (world class, American carousel horse carver), iron stands, 2 graphite drawings by Pratt, kitchen items, sets of china, silver gelatin photo by Ruth Thorne Thompson, bistro chair and table, duck and boy w/ fish statues, carved pedestal bases, iron planters, 6 small wine tasting stools, wrought iron base for table, push wheelchair, A. Mareau Art Nouveau bronze leaf dish, drop leaf side tables and dining table, Barry Eno art glass tree vase, pre-Columbian statues, round English coffee table, Samovar lamp and tray, architectural decorative pieces, footman fireplace stools, ornamental decorative brasses and tassels, 4′ x 4′ signed acrylic floral still life painting by Gunn, multiple volumns of 1781 to 1790 poetry volumns, Ferragamo, Bruno Magli, Ann Kline shoes size 10 narrow ($35.oo a pair)  and more!
Comments