Hancock Park/Mid Wilshire Estate April 3rd-6th
March 26, 2009 by syes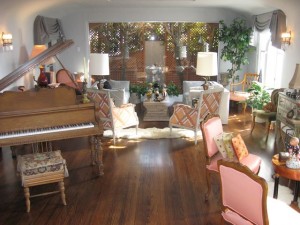 Friday & Saturday, April 3rd & 4th — 8am-4pm
Sunday April 5th — 1pm-5pm
Monday April 6th — 9am-3pm
This is a unique opportunity to find some wonderful antiques and vintage furniture in this 3000 sq. ft. lower level remodeled 1920's duplex. This home is a lovely garden estate filled with furniture, decorative accessories and art.
The antique & some 19thcentury Italian furniture includes Italian armchairs, ruins commode, urn w/elephant head handles (as is), 4 small & other side & arm chairs, pr. gilt/mirrored figural shell candle sconces, pr. faux grained columns, curved armchair, Ormolu pcs. — mirror 30″ x 54″, table clock, 3 drawer dresser, 36″ marble urns, hall stand, pr. claret ewer lamps, Majolica boy w/turtle fountain, pr. Victorian armchairs & sofa, Venetian glass mirror, brass/marble plant stand, 'R' Minton platter & tureen, ornate Kimball light mahogany 5′ turned leg grand piano, oak hall seat, 4 painted scene wall plaques, 4′ x 6′ mahogany dining table, oak arm desk chair, Italian statues-Hermes and others, pictures, wood boxes, quilts, Napoleon smalls, pr. electrified oil lamps, Beidermeier side cabinet, 3 panel 4′ gesso/glass screen, pr, bistro armchairs 8″ metal prophyre.
Vintage items pr. grey suede loveseats, 70's Italian armchairs, 12″iron tables w/tile inserts, 3 pr. compo sidetables & urns, pr. 7′ concrete obelisks, side tables & chairs, dozens of monkey figurines, decorative Greek, Asian, Egyptian pcs., 24″ iron, serpentine, Hermes & other candleholders, lamps, tridacna maxima clam light w/brass mount, lg. bronze, porcelain, ceramic, terra cotta garden cache pots, coffee table books, china—sets for 6 & 12, 'R'platter & tureen, many obelisks—marble, stone, crystal, Belkin 1965 oil, pr. 48″ metal sculpted 60's trees, ivory Italian dining table w/6 leather chairs, étagère, demi-lune cabinet, mirror & tea cart.
Others items metal It. table basket, glass & crystal hollowware& goblets, china plates & misc., pr. silver plate candelabras & side table w/marble insert, oil by Richauro 1963, king tufted headboard.
Men's clothes —Lg. & X-Lg. polos, tuxedos, sport coats, Lauren Country flannels.
Women's clothes—7 racks, 80's designer & lots of it—M, L, 14-16 Neiman Marcus, Oscar de la Renta, G. Pal, Dior, Chanel and Ferragamo shoes sz 10, kitchen, etc.
ADDITIONAL ITEMS NOT ON POST CARD OR EMAIL: 2 & 3 seat folding theatre seats, pair white bear skin rugs, brown calico dishes, Italian garden pots, Maryuka porcelain Russian boxes, patio or breakfast table w/brown glass–30″ x 36″, ceramic bowls & cache pots, ornate Kimball 1920's turned leg piano w/ornate stool, needlepoint pillows, obelisk wall shelf, quilt rack, pair black & white French club chairs, antique/vintage Italian plateau desk & chair, pair faux snake skin book cases, Juan M. Sanchez landscape, faux zebra skin rug (stenciled cowhide), silverplate side table w/marble inset, apothecary bottles, chandeliers (Waterford and others).
Vanity items–small perfume bottles, inlaid vintage wood card table, ebony black coffee table, 36″ alabaster 'David' statue, 3 Lucite nesting tables, Domingo Huetos Oil of young boy, antique 16″ apothecary stoppers, 4 Peter Duffy New York firs + others, barware and accessories.
American hat racks, signed Italian religious figurine,dozens and dozens of cook books, vintage Italian Faunce pottery set, Hall China 'Golden Glo' ramekins, custard and casserole bowls, vintage Rosenthal China 'Sun Ray' chintz china, pair kitchen oil painting 'Mushrooms' by Tak.
Kitchen–small appliances, cookware, copper fish poacher. Antique oak wardrobe w/beveled glass doors, 2 plaques ceramic Lavabo, pair Italian style stools, Italian table w/marble top, side tables, Italian Ramhead side chair, wrought iron plant stands, concrete garden statuary, small 24″ green patio table, iron chairs.
Laboratory glassware–flasks, test tubes, jars, beakers, etc.
Comments