Beverly Hills 2 Estate 2014
March 26, 2014 by syes
The Final Two Days Without Exception!
We Have to Move Out…Escrow is Closing
Saturday March 29 & Sunday March 30
11:00 am to 5:00 pm to ???
PLEASE DO NOT PARK IN THE NEIGHBOR'S DRIVEWAYS!
Kip Drive Beverly Hills 90210
(Off Benedict Canyon Drive onto Clear View Drive.
1st right is Kip Drive.
(Clear View is between Sunset Blvd. and Mulholland Drive).
THIS IS GOING TO BE A VERY BUSY SALE. WE WILL PRICE CLOTHING UPSTAIRS AND BRING DOWN IN BAGS AND KEPT BEHIND THE CASHIERS. THE SAME PROCESS WILL BE FOR THE DOWNSTAIRS FORMER JEWELRY ROOM. THERE IS A PURSE CHECK IN. LET'S ALL HAVE A FUN TIME. THERE IS PLENTY FOR ALL! Unless the few specialty pieces are your 'specialty'. We will meter people in with a security guard on site.
ADDED, PUT NOT PICTURED FROM THOSE 12 BIG BOXES…..20 PCS. OF GERMAN PORCELAIN IN PAIRS AND SINGLES
Below is Sybil Merritt.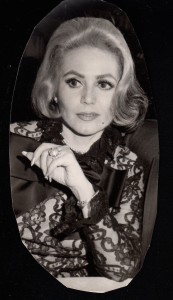 We have unpacked the other 12 large boxes given to Dr. Lew & Dr. Marcia Morrill by 1940's-1950's actress, Sybil Merritt. We did not have time to get these treasures unpacked before the first part of the sale. There are many decorative accessories and things we have not yet seen. The is an ormolu clock, 6 more sets of porcelain dishes, sterling hollowware, ink wells, rose pattern accessories, vintage picture frames, very large sets of gold and crystal stemware ($1250) & some less. Many antique decanters – sterling and crystal ($125 each). Some porcelain figurines. Two antique desks. Jewelry pouches. Cleansers & foodstuffs. Towels. Cal King, Queen & Full Sheets all reduced to $10 to $35 a set. Ivory Leather & Ivory Recliner Chair $500 OBO for both! Tiffany style lamps $85-$475 each. (We added several vintage lamps in green glass and carved Chinese scholar).
Clothes, Shoes, and Other Things will be reduced 30%- 90% and even St. John. All the furniture, lamps, clothes, beds, pictures & oil paintings, shoes, handbags, scarves, belts, sheets, blouses, slacks, ties, blazers, faux ($100 each) and real furs (under $950 each), make-up, jewelry boxes, dishes, china, crystal, sterling flatware, silver plate hollow ware, & stainless flatware. Some items will go to another sale. The gesso gilt mirror is still there $2000. The antique bronze urn and the three-swan antique bronze table are still there and reduced to $2750 and $4500.
The 2003 Cadillac CTS is still available and reduced to $10K. It's Blue Book is  $8800, but because of the mint condition and low mileage, I won't be going too much lower. It is an elegant car, built for just the right somebody.
The Bosch dishwasher is available for $350 a couple years old. The Sterling black glass 5-burner cook top is now $450. The black glass double oven by Frigidaire is now $500. New! The washer and dryer Samsung is now $825. All Near New!
 NO JEWELRY WILL BE FOR SALE AT BEVERLY HILLS PART 2 SALE.
There is a room with an elegant 'smalls' cabinet. There is a figural antique epergne. Some sterling bowls and flatware. Jewelry boxes and more! The balance of this sale's jewelry will probably be ready for the Encino sale or the next sale after that. More gold will be available. We will also take some of the unsold items to another sale. Some are too high end to donate.
Comments