March 26, 2014 by syes · Leave a Comment
The Final Two Days Without Exception!
We Have to Move Out…Escrow is Closing
Saturday March 29 & Sunday March 30
11:00 am to 5:00 pm to ???
PLEASE DO NOT PARK IN THE NEIGHBOR'S DRIVEWAYS!
Kip Drive Beverly Hills 90210
(Off Benedict Canyon Drive onto Clear View Drive.
1st right is Kip Drive.
(Clear View is between Sunset Blvd. and Mulholland Drive).
THIS IS GOING TO BE A VERY BUSY SALE. WE WILL PRICE CLOTHING UPSTAIRS AND BRING DOWN IN BAGS AND KEPT BEHIND THE CASHIERS. THE SAME PROCESS WILL BE FOR THE DOWNSTAIRS FORMER JEWELRY ROOM. THERE IS A PURSE CHECK IN. LET'S ALL HAVE A FUN TIME. THERE IS PLENTY FOR ALL! Unless the few specialty pieces are your 'specialty'. We will meter people in with a security guard on site.
ADDED, PUT NOT PICTURED FROM THOSE 12 BIG BOXES…..20 PCS. OF GERMAN PORCELAIN IN PAIRS AND SINGLES
Below is Sybil Merritt.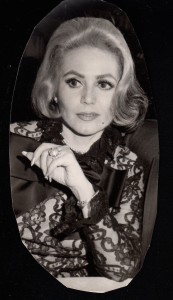 We have unpacked the other 12 large boxes given to Dr. Lew & Dr. Marcia Morrill by 1940's-1950's actress, Sybil Merritt. We did not have time to get these treasures unpacked before the first part of the sale. There are many decorative accessories and things we have not yet seen. The is an ormolu clock, 6 more sets of porcelain dishes, sterling hollowware, ink wells, rose pattern accessories, vintage picture frames, very large sets of gold and crystal stemware ($1250) & some less. Many antique decanters – sterling and crystal ($125 each). Some porcelain figurines. Two antique desks. Jewelry pouches. Cleansers & foodstuffs. Towels. Cal King, Queen & Full Sheets all reduced to $10 to $35 a set. Ivory Leather & Ivory Recliner Chair $500 OBO for both! Tiffany style lamps $85-$475 each. (We added several vintage lamps in green glass and carved Chinese scholar).
Clothes, Shoes, and Other Things will be reduced 30%- 90% and even St. John. All the furniture, lamps, clothes, beds, pictures & oil paintings, shoes, handbags, scarves, belts, sheets, blouses, slacks, ties, blazers, faux ($100 each) and real furs (under $950 each), make-up, jewelry boxes, dishes, china, crystal, sterling flatware, silver plate hollow ware, & stainless flatware. Some items will go to another sale. The gesso gilt mirror is still there $2000. The antique bronze urn and the three-swan antique bronze table are still there and reduced to $2750 and $4500.
The 2003 Cadillac CTS is still available and reduced to $10K. It's Blue Book is  $8800, but because of the mint condition and low mileage, I won't be going too much lower. It is an elegant car, built for just the right somebody.
The Bosch dishwasher is available for $350 a couple years old. The Sterling black glass 5-burner cook top is now $450. The black glass double oven by Frigidaire is now $500. New! The washer and dryer Samsung is now $825. All Near New!
 NO JEWELRY WILL BE FOR SALE AT BEVERLY HILLS PART 2 SALE.
There is a room with an elegant 'smalls' cabinet. There is a figural antique epergne. Some sterling bowls and flatware. Jewelry boxes and more! The balance of this sale's jewelry will probably be ready for the Encino sale or the next sale after that. More gold will be available. We will also take some of the unsold items to another sale. Some are too high end to donate.
March 14, 2014 by syes · Leave a Comment
Kip Drive
Beverly Hills, 90210
3/21/2014 11am to 5pm (Fri)
3/22/2014 11am to 6pm (Sat)
3/23/2014 11am to 5pm (Sun)
3/24/2014 11am to 5pm (Mon)
3/25/2014 11am to 5pm (Tues)
This is one amazing 3500 sq. ft. home off of Benedict Canyon Drive between Sunset Blvd. and Mulholland Dr. This home is full. The sheer volume of possessions here is truly amazing and strikingly unusual.
It was all purchased by two people who were both heirs & doctors from two generations and collectors of beautiful accessories, paintings, Tiffany style lamps, old & new silverplate hollow ware & flatware, china, crystal, and so many closets of women's clothes. Many of the possessions here are  from Dr. Lew's family and gifts from actress Sybil Merritt who acted in movies in 1940's and the 1950's and they are gorgeous decorative accessories.
Here you will find beautiful furnishings (from antique to vintage), decorative accessories, bric-a-brac, kitchen, small (some in multiple colors) & all large appliances, 500 to 700 unused ladies' handbags (many are designers), scarves, thousands of pieces of new costume & gold jewelry, make-up, toiletries, belts, hats, dozens of sheet sets & comforters.
Furniture includes leather & cloth loveseats, sofas, 60's Master Craft mid-century buffet, coffee & end tables (Victorian, Chinese, figural gilt camel, heavy ornate iron pieces. w/ glass tops & carved wood in contemporary, French, Asian, and Italian styles).
Also, a large 5-section traditional entertainment cabinet, 2 sets nesting Asian tables & cabinets, ornate gilt mirrors, 19th c. balloon back chairs, pair of 1950's mid-century Miller side chairs, Kalifanos mirrors & sm/lg vases & platters & lamps & painting, 70's marble dining table & 4 chairs, vintage oil paintings, iron dining table w/6 chairs, entertainment cabinets, floor model stone globe, desk & desk chairs, 4 gilt & 2 wood crown/lion arm chairs, ornate tall dresser & long dresser & mirror  Cal King head & footboard & armoire & 2 bedtime tables set for dining room or bedroom, king & 2 queen mattress sets, 2 gray suede queen headboards, wood sleigh bed, 8 piece orange/natural wood Asian bedroom set, club chairs, bed bench, 4 piece bedroom set, area rugs—Chinese & floral in many shapes & sizes
Two Fredric Remington bronze sculptures 'Mountain Man' & Bronc Buster w/Smooth Chaps, J. Kauba painted bronze "Indian Warrior on Horse", Henry Bonnard c. 1920 "Indian Riding a Running Horse', Jaeger-LaCoutre & many other clocks, bejeweled enamel figurines ,20's & 30's & 40's vanity items, jade figurines -large & small, Balinese statues & Asian carvings, linens, geodes & agates, bar accessories, throw pillows, dozens of faux fur throws, dozens of faux fur coats & real- mink with sable, opossum, cat lynx, light mink jacket, fox fur stole,  women's clothes including St. John (size 2 to 8), shoes (size 6 to 8) and so much more.
***Antique Bronze 3- Swan gilt table probably 18th & 19th century, an antique huge bronze urn 24″-28" (too heavy to lift), a bronze coffee table, and a bronze side table w/out glass. There is also a newer 10-panel Asian screen and a beautiful gilt mirror w/lion and baby faces….gorgeous! These are our highest end furnishings***
Here is some of the More: SILVER PLATE HOLLOW WARE: Lazy Susan revolving appetizer tray, Revere bowl w/ tag, rectangular casseroles with lids, chafing dish, serving bowls, Towle colonial style candle holder, ashtrays & coasters w/sterling rims, pr. sterling candleholders, pr. matching covered vegies, silver plate trays, 5 pc. tea set, carafe, pitchers, butter dishes with lids, bread basket, 10 champagnes, 6 ports, swan handles punch bowl, 7 sterling cordials and 4 sterling cordials with tray, chip & dip bowls.
Chinese porcelain bowls, ginger jars, vases, & lamps, Tiffany style lamps-floor & table, pots & pans-Circulon & Calphalon & others, Chinese wok (new), crystal goblets, lamps, and bowls. Sheets Queen & California King New & Used packaged with strings (DO NOT UNTIE THOSE STRINGS, all sheets are without stains) vanity items, new make-up and perfumes.
There is a great deal of 14kt & 18kt gold & silver jewelry along with a lot of new designer, bling costume jewelry. The gold will be removed after each day of the sale and returned the next morning. We have plain clothes guards on site, also a couple of BIG angels standing by. So please consider the precautions taken. We also have a guard overnight for the new two weeks. Only good intentions are welcome.
All near new appliances– Bosch Stainless dishwasher, Black Glass Double Oven by Frigidaire, Samsung 29′ refrigerator in Stainless Steel, Sterling Cook Top in black glass,  GE Over the Counter microwave in black, Samsung steam washer & VRT dryer Retails for $1750. We can do better on all the appliances!
The clothing is not to be believed, so you must come to see it and see what we are talking about. Shoes, scarves skirts, shorts, slacks, dresses, sweaters, blazers, leather jackets & coats, handbags, tops, blouses, un-countable!
Art–Many are gifts from Sybil Merritt the actress & vintage, 3- 1950's French School oils in the style of Hungarian & New York artist, Pal Fried (French Girls Near the Camps-Elysees and a Partial Nude in Boudoir), N Leguen possibly c. 1925 of Marseilles Farmhouse oil, 3 vintage 1957 oils by Giovanni Pontini 'Vittorio Veneto', 'Gate to the Fiat Auto Plant', & 'Industrial Area' all from the Esther Robles Gallery and gifted to Doctors Marcia and Lew Morrill. Douglas van Dowd sculpture of a 'Seven Horse Herd on the Run'. Large French still life floral illegible signature. There are also a couple of vintage paintings of a ballet dancer and 2 Russian ? men sitting and talking. This sale is an elegant whopper!