January 21, 2009 by syes · Leave a Comment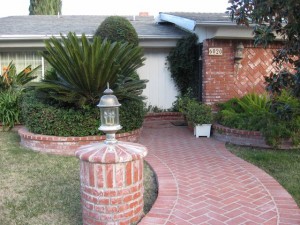 The Scoop:This is a classy vintage/contemporary home filled with Asian, Italian, modern, American Indian, Hawaiian, Filipino, French, Victorian furniture, goodies & decorative items. The view is stupendous overlooking the San Fernando Valley to the east.
This client's passion is entertaining, having parties & enjoying friends. She has recently retired to the Bay area, but leaves her house & many of its contents to be sold.
The furniture is contemporary & of a vintage era, mostly 70's & 80's. There is a leather sofa w/worn section, a 7' textured weave tan sofa, & an 8' velvet white sofa & 2 white damask chairs, a pair of red Victorian tufted silk salon chairs, many blue & red velvet/gilt Italian decorative accessories, 2 ornate gilt w/marble topped, low side tables, Grand Prix Award 1900 St Louis & Paris Exposition 1903 Award antique Baldwin ebony 70″ parlor grand piano built in 1926, classic TV/hall console, gilt mirrors—8 sided oval, lg. 4 1?2' by 5' ornate mirror, 3 1?2' by 2', others in gilt & ebony.
There is a bedroom suite in black w/two side tables, a tall & a long dresser w/huge round mirror, 2 side tables. Also a blue velvet easy chair, modern ottoman, 5 tiered lit curio cabinet w/doors, 60's off white furniture includes— hi fi, dining table & 4 chairs, china cabinet, buffet cabinet, armoire, desk, side & coffee tables, king headboard, chest of drawers, short cabinets & mirror. Shelving-wall & book, bathroom, basket, metal racks, white cubes, butcher block dinette w/white legs & 4 chairs, lg. floor jewelry cabinet, 2 newer tapestries on rods, 6' oak desk & office items, swivel office chair, 2 & 4 drawer file cabinets, lamps— 5 tall standing lamps, ceramic, Frank Lloyd Wright Tiffany style, 3- lamp, long cathedral gilt chandelier, lg. 60s wall sconce, 46" floor Hitachi TV w/ rear projection, rugs & runners, bar stools, white wicker love seat, rocker & chair, oak side & coffee table with glass inserts, console TV.
Decorative accessories include faux stained glass sailboat panel, travel dolls, capiz shell bonsai centerpiece, pr rattan stools, many throw pillows, lanterns, wood fruit, wall clocks & table clock, oil paintings, pictures, statues, some books, Brinks 'on-floor' safe, glass & crystal goblets & other crystal, gilt Italian statues, figurines, silver plate serving pieces & accessories, many vintage bar accessories, vintage printed glassware sets, decanters, beer steins, 60's bar glasses, matchbooks, costume & real jewelry( some from last week's sale), wine racks, brass nautical & Don the Beachcomber items, bar stools tall & short, ladies clothes 6-8/M & L, size 5 1/2M shoes, hats, handbags, dresses, caftans, slacks, blazers, tops, Salton Hot Trays & Salton cart, Graywood Noritake china for 12, chafing dishes, platters, flatware, many cookie jars (one is a Red Wing), newer copper pieces,6 sets daily dishes& the kitchen is a fun one! Brass vanity accessories & perfumes, 60's Kokura dishes, lots of bedding sets, sheets, towels,bath rugs, 2-60's clothes valets, garage, old electronics, Christmas, propane BBQ, Southern patio furniture, green semi circle bar w/4 stools, a bar tending stool, & tall matching propane heater, wrought iron table sets, chaises & tables, tiki torches, racks, and over 100 potted plants! Still more as usual!
January 16, 2009 by syes · Leave a Comment
This estate sale will prove to be one to remember, and one of our best! It is a beautiful, architecturally detailed house, in an older, tucked away L.A. neighborhood. The contents are amazing and designed in an ornately appointed décor. It has a stupendous volume of treasures. It contains a three generations collected by a grandmother, mother and daughter.
It includes 20's antiques, 30's-50's mahogany & upscale furniture, real and costume jewelry, ethnic art & collectibles, new clothes (sz 8 & med), glitzy & casual shoes (sz 9), silver plate & crystal decorative accessories and vanity items. There will not be enough room on this card to mention it all. Check Monday for the additional list of items. Antiques include: a carved polychrome Italian cherubs bas relief wall plaque, a celluloid tagged Ralph & John Widdicomb (1897-1951) English flip top game table, pr. 36" harlequin 20's lamps, 19th c. Victorian & Italian arm chairs & pr. electrified cranberry hurricane lamps, carved sofa & chair, mirrors, English display case w/side to side slide door & key, tea cart, paintings, pr. 36"metal Chinese cat statues, Asian & European figurines & accessories, china, copper pots, etc. 1930's mahogany furniture include 2 round foyer tables, 2 tiered tables, (leather & marble tops), Lane Deco cedar chest, a 30's bedroom suite— dual headboard, side tables, vanity, chest on chest, coffee table. Vintage produced repro, period pieces include a French marquetry dining table w/10 chairs & matching tall china cabinet and commode, mirrored coffee table, chandeliers, 3 Asian wall shelf ensemble, pr. tall columnar cherub lamps, 60's Florentine pieces, lamps— Capo di Monte, crystal, porcelain, 9 Tiffany style, metal. Also, king bedroom set, dressers, clocks, 16 footstools, stools & ottomans, area, round & rug runners in Chinese & Persian style, rag rugs, 2 sofas, hi fi's, Emma Jane's, carousel horses & pig figurine collections, Ethnic accessories—shields, busts, framed masks, pillows, instruments, Strongwater style glitz boxes, classic & Ethnic art—signed & numbered lithos, prints, posters, pictures, etchings. French tapestry w/carved rod, hats, handbags, perfumes, bedding, dolls, Lavabo, kitchen, stained glass panels, patio furniture, planters, plants, bistro tables, benches, arbors, gliders, stands, statuary, Christmas & garage. This is the addendum to the postcard. Dolls include newer harlequin, woodland nymphs, Moroccan, Kenya, Raggedy Ann & Andy, cloth and vintage Japanese. There are many elaborate masquerade masks with holding sticks. Large and small European and American clear and colored crystal pieces, Chinese carved fireplace fan & other Chinese accessories, repro black glass chandelier & sconces, pairs of ginger jars, gilt framed prints, what-not shelves, antique and vintage silver plate tea service, samovar, serving pieces, and flatware, pr. small painted kidney shaped side tables, wall shelves, white-washed carved Chinese coffee table w/6 stools, dozens of ornate throw pillows, 5 tiered gilt metal stand, Chinese fish bowls on rosewood stands, vintage bar accessories, Alley Cat figurines. Mirrors include gorgeous Asian, gilt, rococo style, etched, American, ducks, modern and others. Lamps are tall floor lamps in the Tiffany style, modern column, stacked box style and metal with the rawhide look. Also, decorative grapes, fans, tea pots, crystal and other candlesticks, large decorative boxes, carved & painted side tables, camel saddle, electronic items, 3 pc leather Deco sofa set, red suede easy chair, entry and hall tables, enameled & rhinestone encrusted Strongwater style boxes also include figurines and perfume bottles, goblets, shelving for books, painted hampers, 30's phone table w/phone book slots, corner shelves, decorative bottles and paperweights, patterned glass items, weavings, small cabinets in white Formica, baskets with metal frames, split bamboo and wood. African busts and elaborately framed masks, Chinese cabinet and 4 Chinese stone panels, newer pine desk & chair w/pine letter file, 2-4 drawer metal file cabinets (legal size), several large iron wall 'sun' plaques, safe that sits on the floor, vases, cup and saucer sets, Victorian painted bowl, Asian lazy Susan, office supplies & miscellaneous, some books, Chinese & Indian tables, more arm & side chairs, gorgeous 3-panel painted landscape screen, antique corner cabinet, 2-50's bar cabinets, kitchen center cabinet, dishes, misc. kitchen decorative items, Lexmark X73 Inkjet scan/print/copy machine, 6 painted wood/metal TV trays, set of stainless Wolfgang Puck Bistro cooking pans-many pieces, vintage canister set, watermelon baskets, humongous 5 feet tall by 4 feet wide blue and white ginger jar w/one handle missing, ice cream table set, working, composition garden fountain, tile tables, high end, faux stone backyard BBQ unit with refrigerator. There are also bar rattan bar stools, iron garden table with 4 chairs, demi-lune wood jewelry box, antique side chair, king bedroom set includes headboard, long dresser with tri-fold mirror, 2 side tables and an armoire. In another part of the house, we have round Chinese rugs, black wrought iron coffee table and a hall table with glass tops, vintage carved Chinese trunk, basket chest, 2 rocking chairs, large brass India wall platter, stuffed animals, hat boxes, ladies boots, furs—faux and real, table mirror, shawls, storage containers and zipper closets. The clothes are very nice. Most of them are new and bought off of QVC or Home Shopping Network. Most still have their original tags. Sizes 6 and 8. Small and Medium There is so much more! We look forward to seeing you.